It's the hands-free experience you never knew you needed - a Japanese company has developed a drone-powered parasol it says can hover over users, protecting them from the sun.
The drone-powered sunshade - being developed by Asahi Power Service Co. in Oyama, Tochigi Prefecture - should be released next year, and will initially target those in need of a hands-free head covering wider than your average hat, like golfers.
The potential headaches posed by crashes, and regulations governing autonomous aircraft, mean the company expects the product will initially be used in closed private spaces - which would be no obstacle for golf courses.
"I decided to develop it as I don't like to hold an umbrella," company president Kenji Suzuki said.
At 150 centimeters (60 inches) wide, the parasol prototype weighs 5 kilograms (11 pounds), and so far can only fly for five minutes on one charge.
Asahi Power Service is hoping to quickly extend flying time to at least 20 minutes, partly by making the device lighter, Suzuki said.
Jun 22
Japan's national space agency says its probe, "Hayabusa2", has less than a week to go before reaching the orbit of the asteroid Ryugu.
(NHK)
Jun 21
The Japan Aerospace Exploration Agency, or JAXA, has released new images taken by its probe Hayabusa2. They show a crater-like indentation about 200 meters across near the equator of the Ryugu asteroid.
(NHK)
Jun 21
A dinosaur fossil that may be part of a tyrannosaurus has been found in Ashibetsu, Hokkaido, northern Japan, two Hokkaido museums said Wednesday.
(Jiji)
Jun 21
A scientist says fresh strain is believed to have built up along active faults following Monday's major earthquake in Osaka Prefecture, western Japan.
(NHK)
Jun 19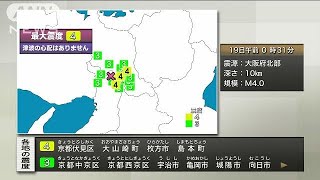 More than 20 tremors believed to be aftershocks of Monday's major earthquake have rattled the western Japanese prefecture of Osaka.
(NHK)
Jun 19
The earthquake that struck western Japan on Monday morning battered the region's infrastructure, revealing the fragility of utility lifelines and transportation networks in one of the country's most densely populated areas.
(Nikkei)
Jun 18
More than 2,000 venomous fire ants have been discovered in a shipping container from China that arrived at a port in Osaka Prefecture earlier this month, leaving two people hurt, government officials said.
(Japan Today)
Jun 17
An earthquake shook Gunma Prefecture, north of Tokyo, on Sunday afternoon. No major damage has been reported.
(NHK)
Jun 17
A nuclear reactor at a trouble-hit complex in southwestern Japan restarted operations Saturday for the first time in more than six and a half years amid lingering safety concerns.
(Japan Today)
Jun 17
The U.S. naval hospital ship Mercy arrived Saturday in Japan, which is considering building such floating hospitals to provide medical care after disasters like the 2011 catastrophe.
(Kyodo)
---