Japanese Prime Minister Shinzo Abe says US President Donald Trump has reassured him that he will raise the issue of abductions of Japanese nationals by North Korea at his summit with Kim Jong Un.
Abe spoke with Trump over the phone on Monday after returning from the G7 summit in Canada.
Abe told reporters that the US president briefed him on the latest situation ahead of his summit with the North Korean leader. Abe said they closely coordinated their policies.
Abe said Japan, the US and South Korea share a basic policy. He also expressed hope that the summit will be a historic and major step toward peace and stability in northeast Asia.
Sep 19
Shinzo Abe is poised to win a third term as head of his political party on Thursday, putting him on track to become Japan's longest-serving prime minister and realize his dream of reforming the constitution.
(Japan Today)
Sep 18
Japan's Maritime Self-Defense Force says one of its submarines took part in a drill in the South China Sea.
(NHK)
Sep 13
The Russian government has expressed readiness to open talks with Japan on President Vladimir Putin's proposal to sign a peace treaty by the end of the year without any preconditions.
(NHK)
Sep 13
Japan's prime minister and China's president say they'll work to improve relations. As part of that, Shinzo Abe told reporters he'll push ahead with plans to visit China next month. The two leaders met on the sidelines of an economic forum in eastern Russia.
(NHK)
Sep 11
The mayor of the eastern Japan town of Minakami tendered his resignation Monday after sexual harassment allegations against him have made the passage of a no-confidence motion in the local assembly almost inevitable.
(Japan Today)
Sep 08
Japanese Prime Minister Shinzo Abe and Shigeru Ishiba, former secretary-general of the ruling Liberal Democratic Party, filed their candidacies for the party's presidential election on Friday, at the start of its official campaign period.
(Jiji)
Sep 01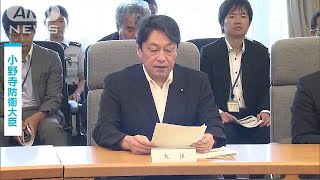 Japan's Defense Ministry plans to request a record budget to address security issues, such as North Korea's ballistic missile program and China's maritime activities.
(NHK)
Sep 01
The Okinawa prefectural government on Friday canceled its permission for landfill work for the construction of a U.S. military facility in the Henoko coastal area in Nago in the southernmost Japan prefecture.
(Jiji)
Aug 30
A Japanese government panel of experts started discussions on Wednesday on a planned review of the country's long-term defense policy guidelines.
(Jiji)
Aug 29
Fukushima Mayor Hiroshi Kohata announced a decision on Tuesday to remove a controversial statue of a child in a radiation protection suit that has drawn waves of criticism since it was unveiled early this month.
(Japan Times)
---