Following the disaster, questions are beginning to emerge. Some wonder whether people were given enough warning to leave areas threatened by rising waters. Others ask whether the high loss of life could have been avoided.
Muddy waters fill the streets of Ozu City in Ehime Prefecture. Four people died and 4,600 homes were damaged. The waters are believed to have reached up to 4.6 meters, sweeping away everything in their path.
The waters came from 2 dams upriver. Record rainfall filled their reservoirs to capacity. That's when authorities took the unusual step of opening up the sluice gates.
On Saturday morning, they were sending out thousands of tons of water every second.
On Wednesday, a land ministry official defended the decision. He said "If massive amounts of rain keep falling for a long period like this time, the dams come close to their full capacity. Ultimately we have to release around as much water as flows in."
Ozu City officials say they used an emergency warning system to alert people that the waters were coming.
But some people living along the river say otherwise.
Fukunori Hashimoto says "I don't remember hearing any warning about water release in the morning. I know we can't conquer nature and I wouldn't complain about my house being flooded. However, this could have been avoided if we'd had accurate information sooner."
This was Japan's worst weather-related disaster in more than 3 decades. Experts are looking into why so many people failed to flee.
They say communication is vital when disaster strikes. They're calling on officials to find ways to send out information in those situations on multiple platforms.
河川の氾濫で死者を出した愛媛県の肱川について上流のダムを管理する国土交通省四国地方整備局は、当時の放流について安全基準の約6倍だったことを明らかにしました。 7日、肱川が氾濫して大量の水が流れ込んだ大洲市では4人が死亡し、1人が行方不明になっています。
Feb 16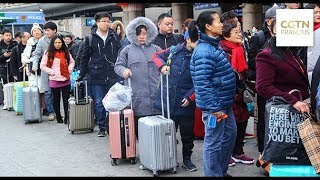 Reservations for travel overseas are surging for this year's 10-day Golden Week period, during which the Imperial succession is set to take place, according to a JTB Corp. official.
(Japan Times)
Feb 15
The Japanese government has mapped out a bill to officially recognize the Ainu ethnic minority as an indigenous people of Japan.
(NHK)
Feb 15
Bullet train ticket machines have stopped working in many parts of Japan.
(NHK)
Feb 13
Around the world, people use chocolate treats to express sweet nothings on Valentine's Day.
(BBC)
Feb 13
As spring approaches in Japan, the country's weather forecasters face one of their biggest missions of the year: predicting exactly when the famed cherry blossoms will bloom.
(straitstimes.com)
Feb 13
A new outbreak of swine fever has been confirmed on a pig farm in Aichi Prefecture, central Japan. It is the third farm in the prefecture to be hit by the highly contagious disease.
(NHK)
Feb 12
Convenience store operator Family Mart Co. on Monday announced the dismissal of a male employee after the emergence of a video showing him licking items, the latest of several similar incidents involving a food-related company in the last week, reports TV Asahi (Feb. 12).
(tokyoreporter.com)
Feb 12
A man in custody in connection with the death of a female university student whose body was found buried in a field in Kamisu City last month has also been accused in her murder, police said over the weekend, reports the Asahi Shimbun
(tokyoreporter.com)
Feb 10
The number of influenza patients per medical institution in Japan in the week through Feb. 3 dropped from the previous week in all of the nation's 47 prefectures, the health ministry announced.
(Japan Times)
Feb 09
People in Sapporo shivered through frigid conditions on Friday as the city recorded a daytime high of minus 10.1 degrees Celsius, making it the first time in 40 years that the mercury has failed to reach minus 10.
(NHK)
---