Japan's space agency says its Hayabusa2 probe is shedding more light on the features of the asteroid Ryugu. It says the celestial body's surface temperatures range from 30 to 100 degrees Celsius.
Scientists at the Japan Aerospace Exploration Agency, or JAXA, disclosed the latest findings at a news conference on Thursday.
The explorer reached a point 20 kilometers from Ryugu on June 27th. The asteroid, which is roughly 900 meters in diameter, is about 300 million kilometers from the Earth.
The scientists say the latest observations show the asteroid's surface temperatures vary according to the amount of sunlight.
They say these temperature levels will not prevent the probe from exploring Ryugu's surface.
They also say that each area of Ryugu has 2 seasons, summer and winter, because the axis of its rotation is slightly tilted. The 2 seasons combined last for about 15 months.
The scientists expect that further observations of temperature changes will show whether the materials on the surface are sand or rock.
They plan to have Hayabusa2 descend to about 6,000 meters from the asteroid around Friday, and to 1,000 meters around August 7th to carry out more detailed studies. They hope to find a good location for a landing by the probe in September or October.
Hayabusa2 Mission Manager Makoto Yoshikawa says their research shows that Ryugu is scientifically very interesting.
Yoshikawa also says the probe has detected many rocks on the asteroid's surface. He says the researchers hope to find a flat place for the landing by making observations at a lower altitude.
May 27
After a fun-filled weekend of golf, sumo, cheeseburgers and charcoal-grilled meat and vegetables, U.S. President Donald Trump and Japanese Prime Minister Shinzo Abe are set to hold formal talks Monday, with trade and tensions with North Korea topping the agenda.
(Japan Today)
May 27
Scorching heat hit Japan on Sunday. The temperature shot up to over 39 degrees Celsius in the northernmost prefecture of Hokkaido. That's a national record high for May.
(NHK)
May 27
Three people remained missing as of Sunday evening after two Japanese cargo ships collided during the early morning hours off the coast of Chiba Prefecture, the Japan Coast Guard said.
(Japan Times)
May 26
Japan's top trade negotiator with the United States has said both sides continue to differ on negotiations for a trade deal, adding that they need to work further to narrow the gap.
(NHK)
May 26
In sumo, rank-and-file wrestler Asanoyama has clinched his first tournament title.
(NHK)
May 25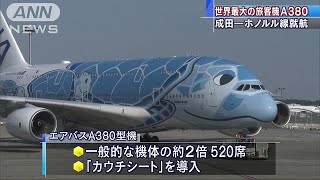 All Nippon Airways debuted flights of a double-decker Airbus A380 from Narita Airport north of Tokyo, bound for Hawaii on Friday.
(NHK)
May 24
The government will no longer use the term "lifelong singles" as a label for people who have not married by age 50, deeming the term inaccurate as Japanese are increasingly tying the knot later in life, officials said Thursday.
(Japan Today)
May 24
Many parts of Japan saw the mercury top 30 degrees Celsius on Thursday. Weather officials are warning of unseasonal high temperatures over the weekend.
(NHK)
May 24
Police in Japan are stepping up security for an upcoming visit by US President Donald Trump.
(NHK)
May 24
Japan's new supercomputer Fugaku is set to begin operations around 2021 with the country aiming to regain the title of building the world's fastest computer, replacing its current supercomputer K, government-backed research institute Riken said Thursday.
(Japan Times)
---