Tropical storm Jongdari is hitting the Kyushu region in southwestern Japan.
Meteorological Agency officials say the storm made landfall in Fukuoka Prefecture around 5:30 PM on Sunday after travelling across western Japan.
The storm is now moving southwest at 25 kilometers per hour.
Heavy rain and strong winds are likely to continue in the Shikoku and Kyushu regions as the storm is expected to slow down and linger off western Kyushu for some time.
Agency officials say parts of Shikoku and Kyushu may have more than 50 millimeters of rainfall an hour. They are predicting 150 to 200 millimeters for these areas in the 24-hour period through Monday evening.
The agency is urging people to be prepared for landslides, overflowing rivers, floods in low-lying areas, high waves, and storm surges.
台風12号は九州の西を進んでいて、西日本の太平洋側では引き続き大雨に警戒が必要です。 29日に西日本を横断した台風12号は、現在は九州の西の海上を南下しています。今後、台風はさらに南へ下がり、30日の午後には鹿児島県の西の海上でほとんど停滞する見込みです。
May 26
Temperatures rose across Japan on Saturday to highs usually not seen until the height of summer, causing hundreds of people to be taken to hospitals and prompting the weather agency to issue heatstroke warnings.
(Japan Today)
May 26
Japan's top trade negotiator with the United States has said both sides continue to differ on negotiations for a trade deal, adding that they need to work further to narrow the gap.
(NHK)
May 25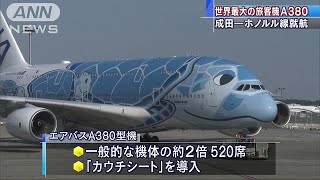 All Nippon Airways debuted flights of a double-decker Airbus A380 from Narita Airport north of Tokyo, bound for Hawaii on Friday.
(NHK)
May 24
Many parts of Japan saw the mercury top 30 degrees Celsius on Thursday. Weather officials are warning of unseasonal high temperatures over the weekend.
(NHK)
May 23
Kyoto Prefectural Police have arrested a 23-year-old male Australian national who is suspected of scrawling graffiti in dozens of locations in Kyoto City, reports Fuji News Network (May 22).
(tokyoreporter.com)
May 23
The International Olympic Committee says boxing is set to maintain its place in the 2020 Tokyo Games, but that the sport's international association should be excluded from organizing the events due to a number of problems.
(NHK)
May 23
Junnosuke Taguchi, a former member of Japanese boy band KAT-TUN, was arrested Wednesday on suspicion of possessing marijuana, the Narcotics Control Department said.
(Japan Times)
May 22
Tokyo DisneySea has begun its largest expansion project ever.
(NHK)
May 22
A Japanese government committee has decided on the route of a parade scheduled for October to celebrate the enthronement of Emperor Naruhito.
(NHK)
May 22
The Supreme Court and other legal professionals in Japan have hosted a symposium to mark the tenth anniversary of the introduction of the country's lay judge system.
(NHK)
---