At 6 p.m. on one weekday in August an enthusiastic audience had almost filled Gion Corner, a theater of some 200 seats at the center of the Gion traditional entertainment district in the city of Kyoto.
Occupying most of the seats were visitors from overseas, who applauded vigorously every time a performance ended and pointed their cameras and smartphones at the stage. Nighttime sightseeing in Kyoto is catching on with foreign tourists, as locals are working to satisfy visitors' hopes of enjoying traditional culture even after sunset.
At the theater, seven traditional performing arts - including kyōmai (Kyoto-style dancing), gagaku (court music) and kyōgen (comic plays) - are presented in turn in a program that lasts about an hour. The program is staged twice each evening, starting at 6 p.m. and 7 p.m., with tickets for each performance priced at ¥3,150 ($28) for an adult. The annual number of visitors to the theater topped 80,000 in fiscal 2017, the highest since its establishment in 1962, and foreign visitors accounted for some 70 percent of the total.
The growth in nighttime tourism is also expected to help ease the increasingly serious problem of daytime congestion in Kyoto, which is a highly popular destination for both Japanese and foreign tourists.
In a city visited by more than 50 million people each year, local residents sometimes cannot get on a bus.
In collaboration with online restaurant booking service provider Gurunavi Inc., the Kyoto Municipal Government opened a website showcasing local services that offer hands-on experiences of Japanese traditional tea ceremonies and dances into the evening.
Jun 19
The Japan Meteorological Agency says a magnitude-6.7 quake struck the northern part of the country late Tuesday night. No fatalities have been reported. Tsunami advisories issued along the Sea of Japan coast have been lifted.
(NHK)
Jun 19
Chief Cabinet Secretary Yoshihide Suga says people in the affected areas should remain on the alert.
(NHK)
Jun 19
The Tokyo District Court on Tuesday sentenced Pierre Taki, an actor and member of Japanese techno-pop duo Denki Groove, to 18 months in prison, suspended for three years, for using cocaine.
(Japan Times)
Jun 19
Almost half of singles in Japan who wish to get married are unable to find a suitable partner, with 61.4 percent of the group stating they are not doing anything to change the situation, a government survey showed Tuesday.
(Japan Today)
Jun 19
A 62-year-old man wanted by police on suspicion of stabbing his former wife in Noboribetsu City, Hokkaido, has been found dead in a forest, police said Monday.
(Japan Today)
Jun 19
The Financial Services Agency estimates couples will require up to 30 million yen in retirement savings, far higher than the amount suggested by a panel in a controversial report that questioned the credibility of the public pension system, a document showed Tuesday.
(Kyodo)
Jun 19
Shoplifting has long been an issue in Japan with retail staff going to great lengths to combat it, such as being dragged by cars or covering the entire ceiling with security cameras.
(soranews24.com)
Jun 18
A major renovation project has begun at Itsukushima Shrine, a UNESCO World Heritage Site, in Hiroshima Prefecture, western Japan.
(NHK)
Jun 18
Tokyo Metropolitan Police have arrested a 43-year-old man for allegedly setting fire to a sex business in Shibuya Ward earlier this year, reports TBS News (June 17)
(tokyoreporter.com)
Jun 18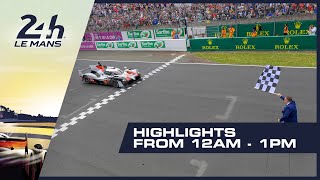 Toyota drivers Kazuki Nakajima, Fernando Alonso and Sebastian Buemi claimed their second consecutive 24 Hours of Le Mans victory Sunday, but only after some bad luck scuttled their sister car's hopes of a win.
(Kyodo)
---