Bits of plastic have been detected in the feces of people in Europe, Russia and Japan, according to research claiming to show for the first time the widespread presence of plastics in the human food chain.
All eight volunteers in a small pilot study were found to have passed several types of plastic, with an average of 20 micro-particles per 10 grams of stool, researchers reported Tuesday at a gastroenterology congress in Vienna.
The scientists speculated that the tiny specks — ranging in size from 50 to 500 micrometers — may have been ingested via seafood, food wrapping, dust or plastic bottles.
A human hair is roughly 50 to 100 micrometers in width.
"In our laboratory, we were able to detect nine different types of plastics," said Bettina Liebmann, a researcher at the Federal Environment Agency, which analyzed the samples.
The two most common were polypropylene — found in bottle caps, rope and strapping — and polyethylene, present in drinking bottles and textile fibres.
Together with polystyrene (utensils, cups, coolers) and polyethylene (plastic bags), they accounted for more than 95 percent of the particles detected.
"We were unable to establish a reliable connection between nutritional behavior and exposure to microplastics," said lead author Philipp Schwabl, a researcher at the Medical University of Vienna.
In earlier studies on animals, the highest concentrations of microplastics were found in the stomach and intestines, but smaller amounts have also been detected in blood, lymph and the liver.
Mar 23
A key part of the business model for convenience stores is their round-the-clock service. But a shortage of staffers is prompting some operators to consider shrinking their business hours.
(NHK)
Mar 23
A member of a sister group of the popular all-girl band AKB48 on Friday criticized the outcome of a probe into an assault against her as "lies," as the group's management company revealed the result.
(Japan Today)
Mar 23
The number of foreign residents in Japan had risen 6.6 percent at the end of 2018 from a year earlier, to reach a record high of some 2.73 million, Justice Ministry data showed on Friday.
(Japan Times)
Mar 22
The cherry blossom season officially arrived in Tokyo on Thursday after officials from the Meteorological Agency confirmed that more than five blossoms had opened on a Somei-Yoshino cherry tree at Yasukuni Shrine in Chiyoda Ward.
(Japan Times)
Mar 22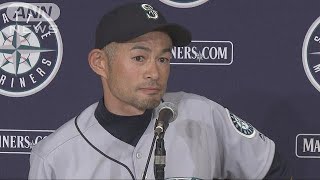 Japanese baseball legend Ichiro Suzuki of the US Major Leagues' Seattle Mariners has announced his retirement.
(NHK)
Mar 21
Cherry trees came into bloom Wednesday in the southwestern prefecture of Nagasaki, the first blooming of the "Somei Yoshino" variety in Japan this spring, according to the Japan Meteorological Agency.
(Japan Today)
Mar 21
Police on Wednesday arrested an American man on suspicion of fatally stabbing his Japanese wife at a court where they were to settle a divorce.
(Japan Today)
Mar 21
The unmanned space probe Hayabusa2 has detected small amounts of minerals containing water on the surface of the asteroid Ryugu, a Japanese research team has said.
(Japan Times)
Mar 21
Police on Thursday arrested a 14-year-old junior high school boy on suspicion of attempted murder after he stabbed a classmate at their school in Saijo, Ehime Prefecture.
(Japan Today)
Mar 20
The head of the Japanese Olympic Committee has announced he will step down when his term expires in June.
(NHK)
---