The winner of Game 1 of the 2018 Japan Series was, well, nobody.
Although the relievers for the Hiroshima Carp and Fukuoka SoftBank Hawks certainly warrant an honorable mention.
The Carp scored twice in the first inning, the Hawks scored twice in the fifth, and neither team was able to find its way across home plate after that as Game 1 ended in a 2-2 ,12-inning tie on Saturday night in front of a crowd of 30,727 at Mazda Stadium.
"It was a big tie for us," Hawks manager Kimiyasu Kudo said. "We'll be able to take advantage of it."
On the same day the MLB saw its longest-ever World Series game end in 7 hours and 20 minutes, the Carp and Hawks played for 4 hours and 38 minutes. Japan Series games are considered ties after 12 innings this season, a departure from the usual 15 frames played in the final round.
The tie was the first in the Japan Series since 2010, when the Chiba Lotte Marines and Chunichi Dragons finished 2-2 in Game 6. It was the first to open a Japan Series since 1986, when the Carp and Seibu Lions played a 14-inning, 2-2 draw in Hiroshima. That was also the last Japan Series to require an eighth game, due to the tie. The Lions won the series 4-3, with Kudo, one of the Lions' star pitchers, named MVP.
Nov 12
One month has passed since record rain brought by a strong typhoon caused extensive damage in much of Japan.
(NHK)
Nov 12
Two days after he fled in Osaka Prefecture, prosecutors on Monday caught a man indicted on drug charges who escaped while being transferred to police custody after his bail was revoked.
(Japan Times)
Nov 12
On Thursday evening, Emperor Naruhito will dress in pure white robes and be ushered into a dark wooden hall for his last major enthronement rite: spending the night with a "goddess."
(Japan Today)
Nov 11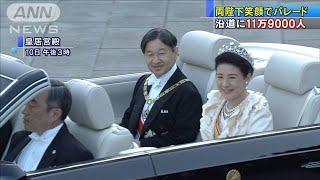 Japan's new Emperor and Empress enthralled people in Tokyo and around the nation with a lavish procession through the streets of the capital.
(NHK)
Nov 10
The suspect in a deadly arson attack in July on a Kyoto Animation Co studio has been questioned by police for the first time as he recovers from severe burns, investigative sources said Saturday.
(Japan Today)
Nov 09
Mt Sakurajima volcano shot smoke and ash miles into the sky on Friday in its biggest eruption in more than three years, Kyodo News reported.
(Japan Today)
Nov 09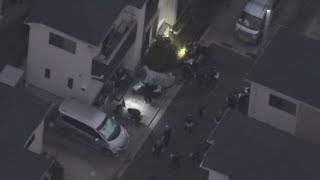 A 55-year-old man was found dead in his home in western Tokyo on Friday with more than 30 stab wounds while the property appeared to have been ransacked, police said.
(Japan Today)
Nov 09
The Japanese Prime Minister has apologized for the postponement of the planned introduction of private-sector English tests for university admission.
(NHK)
Nov 08
The season's first haul of snow crabs, a winter delicacy, has fetched record prices at a port in western Japan.
(NHK)
Nov 07
All 10 Shinkansen bullet trains that were damaged last month by Typhoon Hagibis in Nagano, central Japan, will be scrapped.
(NHK)
---