Time seemed to have stopped inside the main control room for the Fukushima Daiichi nuclear power plant's crippled Nos. 3 and 4 reactors -- that is how Kyodo News reporters felt when they recently became the first journalists to enter the facility since the 2011 nuclear meltdowns there.
The control room's interior has been left almost untouched since the disaster. Handwriting was found on the wall near an instrument that used to measure the No. 3 reactor's water levels, showing the urgency faced by some 10 workers there at the time of the crisis.
"We don't write (on the wall) under a normal situation, so it indicates it was an emergency," said an official of the plant's operator, Tokyo Electric Power Company Holdings Inc.
The nuclear crisis was triggered by the magnitude 9.0 earthquake and ensuing tsunami that flooded the facility on the Pacific Coast of Japan on March 11, 2011.
The No. 3 reactor suffered a fuel meltdown and a hydrogen explosion, while the No. 4 reactor, which did not have nuclear fuel inside, also exploded due to a hydrogen inflow from the nearby reactor.
In February 2014, TEPCO showed the media the control room for the Nos. 1 and 2 reactors, which also suffered meltdowns, but had kept the control room for the Nos. 3 and 4 closed due to high levels of radiation in the area.
Radiation levels inside the control room for Nos. 3 and 4, whose floor is now covered by special sheets, was 6 microsieverts per hour, which contrasts with 0.037 microsievert per hour in Tokyo's Shinjuku Ward on Sunday.
May 26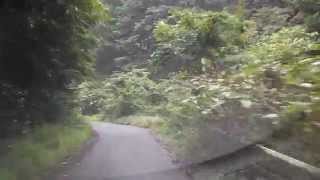 It was around 3 p.m. on a chilly day in December. The sky was overcast and the scent of rain hung in the air when Rina Kambayashi happened upon a creature she had never seen before.
(Japan Times)
May 24
Japan's new supercomputer Fugaku is set to begin operations around 2021 with the country aiming to regain the title of building the world's fastest computer, replacing its current supercomputer K, government-backed research institute Riken said Thursday.
(Japan Times)
May 23
Tokyo Electric Power Company has put on hold its plans to hire foreigners under a new type of work visa in decommissioning work at the crippled Fukushima Daiichi nuclear power plant.
(NHK)
May 20
Japanese seismologists believe that nearly 99 percent of their predictions related to massive earthquakes in the Pacific off central and western Japan are likely to prove wrong, a survey conducted by Kansai University showed Sunday.
(Kyodo)
May 20
Japanese Prime Minister Shinzo Abe and U.S. President Donald Trump are expected to sign an agreement on joint lunar exploration and other space-related projects when they meet here May 27, seeking to stay a step ahead of China and other rivals.
(Nikkei)
May 17
Japan's Hayabusa2 probe has aborted its descent to asteroid Ryugu after it reached around 50 meters above the surface. The probe was supposed to drop a marker on the asteroid to prepare for another landing.
(NHK)
May 11
Japan's weather bureau on Friday said the El Nino weather pattern was continuing, with an 80% chance it would stretch into the northern hemisphere summer.
(Japan Today)
May 10
Japan's space agency said Thursday 10 other smaller man-made craters had been found on an asteroid after its Hayabusa2 space probe produced an artificial crater last month as part of its mission to explore the origin of life and the evolution of the solar system.
(Japan Today)
May 04
A small rocket developed by a Japanese startup company was successfully launched on Saturday morning.
(NHK)
May 03
Japanese investigative sources say unidentified objects suspected to be drones have been spotted above several places in Tokyo, including an area near the Imperial Palace.
(NHK)
---