Japan's most beloved flowers are often associated with April, but they'll be at their most beautiful in Tokyo before that, says forecast.
With Christmas and New Year's over, it's time to start looking forward to spring, and in Japan, that means looking forward to cherry blossoms. Sure, we got a sneak preview thanks to some unusual weather back in October, but the true sakura season doesn't start until April…or wait, is it March? May? As beautiful as Japan's cherry blossoms are, they're also tremendously fickle as to when they'll make their appearance. Thankfully, though, the Japan Meteorological Corporation has just released its forecast of when the flowers are expected to bloom this year, with March 18 being the first predicted date for sakura to bloom (outside of tropical Okinawa Prefecture).
That March 18 debut date, however, is for Kochi, on the island of Shikoku. If you're looking to get your sakura fix in Japan's capital, March 22 is when the cherry blossoms will start to bloom in Tokyo, Japan Meteorological Corporation says, which is four days earlier than average for the city. On the other hand if you want to see sakura in Japan's previous capital, Kyoto, you'll need to wait until March 25.
Feb 16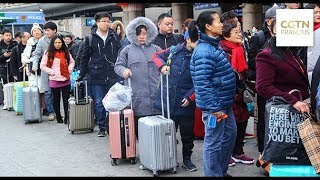 Reservations for travel overseas are surging for this year's 10-day Golden Week period, during which the Imperial succession is set to take place, according to a JTB Corp. official.
(Japan Times)
Feb 16
A fire broke out at a warehouse in Tokyo on Tuesday afternoon leaving three men dead and another man injured, while some flights at nearby Haneda airport were also disrupted by the incident.
(Kyodo)
Feb 15
Bullet train ticket machines have stopped working in many parts of Japan.
(NHK)
Feb 13
As spring approaches in Japan, the country's weather forecasters face one of their biggest missions of the year: predicting exactly when the famed cherry blossoms will bloom.
(straitstimes.com)
Feb 10
A cold snap hit Tokyo and its surrounding areas Saturday, causing cancellations of more than 100 domestic flights to and from the capital.
(Japan Times)
Feb 09
People in Sapporo shivered through frigid conditions on Friday as the city recorded a daytime high of minus 10.1 degrees Celsius, making it the first time in 40 years that the mercury has failed to reach minus 10.
(NHK)
Feb 07
Nara Park in Nara Prefecture is famous for its 1,000-plus-strong shika (native deer) population. These deer, considered to be messengers of the gods, are a national treasure and a protected species within the city's limits, due to their sacred connection to Nara's Kasuga Taisha Shrine.
(soranews24.com)
Feb 06
Star Wars, anime favourites, and tennis pro Naomi Osaka all make an appearance at this year's event.
(soranews24.com)
Feb 05
Tokyo Tower, an iconic landmark in the capital, has been illuminated in red as part of the efforts to welcome Chinese visitors to Japan during the Lunar New Year holiday.
(NHK)
Feb 03
Geisha apprentices, called "maikos," have gathered at Yasaka Shrine in Kyoto to take part in a traditional bean-throwing ritual.
(NHK)
---