Japan's most beloved flowers are often associated with April, but they'll be at their most beautiful in Tokyo before that, says forecast.
With Christmas and New Year's over, it's time to start looking forward to spring, and in Japan, that means looking forward to cherry blossoms. Sure, we got a sneak preview thanks to some unusual weather back in October, but the true sakura season doesn't start until April…or wait, is it March? May? As beautiful as Japan's cherry blossoms are, they're also tremendously fickle as to when they'll make their appearance. Thankfully, though, the Japan Meteorological Corporation has just released its forecast of when the flowers are expected to bloom this year, with March 18 being the first predicted date for sakura to bloom (outside of tropical Okinawa Prefecture).
That March 18 debut date, however, is for Kochi, on the island of Shikoku. If you're looking to get your sakura fix in Japan's capital, March 22 is when the cherry blossoms will start to bloom in Tokyo, Japan Meteorological Corporation says, which is four days earlier than average for the city. On the other hand if you want to see sakura in Japan's previous capital, Kyoto, you'll need to wait until March 25.
Oct 17
Perched beside the Kurobe River deep in the Japanese Alps, the small, milky-blue hot spring I was about to dip my toes into was a rather simple affair. A handful of yellow buckets served as washing stations, and clothes were balanced on nearby rocks. This was no luxury spa experience – but that was the beauty of it.
(BBC)
Oct 17
Tensions with South Korea and the turmoil in Hong Kong are casting a shadow over Japan's goal of drawing an annual 40 million tourists by next year.
(Nikkei)
Oct 15
Tokyo, Kyoto and Osaka rank among the world's best 10 large cities -- with the Japanese capital topping the list for a fourth successive year -- according to U.S. luxury and lifestyle travel magazine Conde Nast Traveler.
(Japan Today)
Oct 12
Record-breaking rainfall, strong winds and severe flooding befell areas from central to northern Japan on Saturday as one of the strongest typhoons to hit the country in years moved over Honshu.
(Japan Times)
Oct 12
Airlines in Japan will cancel more than 1,600 domestic flights on Saturday due to a powerful typhoon.
(NHK)
Oct 12
The approaching Typhoon Hagibis will make railway services almost completely unavailable in the greater Tokyo area on Saturday.
(NHK)
Oct 11
All Nippon Airways has canceled all 406 domestic flights to and from Tokyo's Haneda Airport and Narita Airport on Saturday, due to approaching Typhoon Hagibis.
(NHK)
Oct 11
Tick, tock. We're at Takamatsu's dock with one eye on the clock. For it's a daunting mission, squeezing the best of some 200 artworks scattered over a dozen islands and two ports in Japan's Seto Inland Sea into two days.
(afr.com)
Oct 08
The extremely large typhoon Hagibis is gaining force over the Pacific south of Japan and is forecast to approach Kyushu, Shikoku and Honshu during the upcoming three-day weekend, the Meteorological Agency said.
(Japan Times)
Oct 08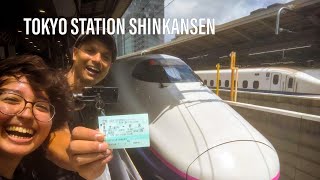 A new food delivery service will be available to passengers traveling by Shinkansen bullet train to the Sea of Japan coast areas of Niigata and Yamagata prefectures.
(NHK)
---