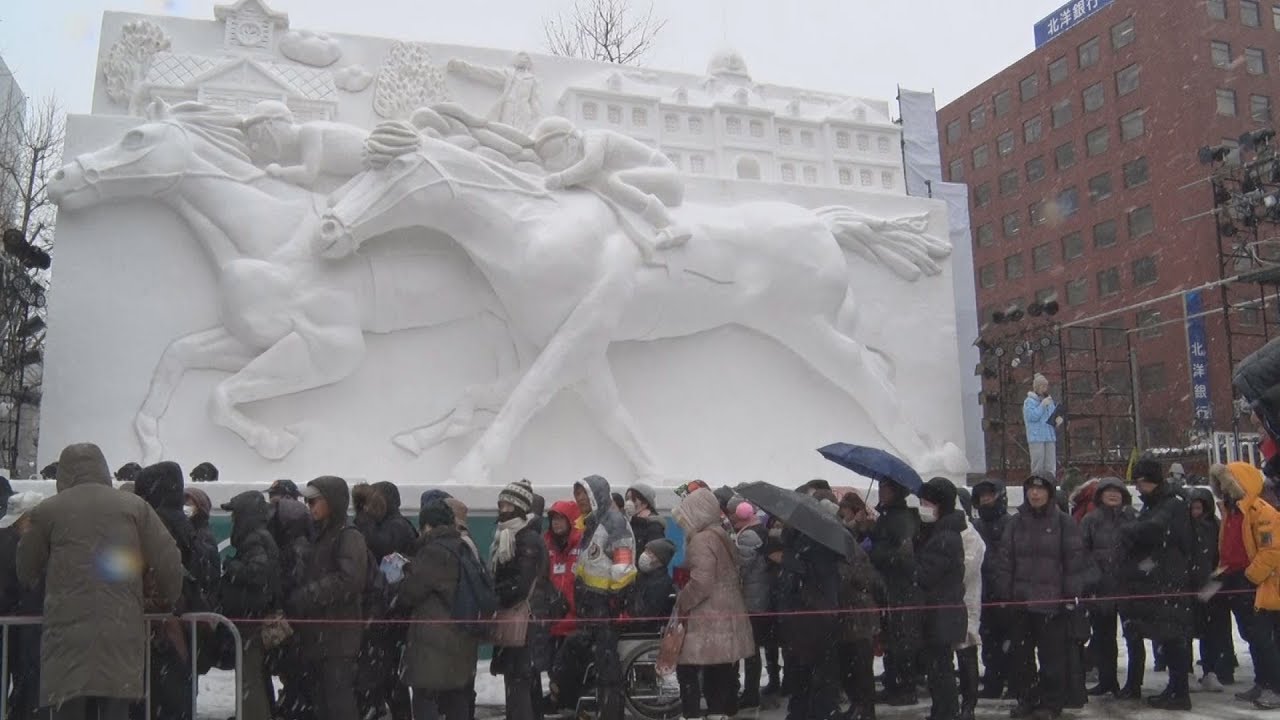 Star Wars, anime favourites, and tennis pro Naomi Osaka all make an appearance at this year's event.
Hokkaido's capital city of Sapporo came to life with crowds of visitors yesterday, as the 70th Sapporo Snow Festival officially opened to the public across two sites at Susukino and Odori Park in the city's centre.
A total of 200 ice and snow sculptures have been created for this year's event, with the largest designs – measuring 15 metres (49 feet) in height and constructed with the help of the Japan Self-Defence Forces – located at the Odori Park location.
One of the largest sculptures on display this year is dedicated to the Star Wars film franchise, and this is where the festival's official opening ceremony was held last night.
Aug 22
A Shinkansen bullet train made an emergency stop after one of its doors opened while speeding through northeastern Japan.
(NHK)
Aug 22
The number of South Korean tourists visiting Japan fell last month to its lowest in nearly a year as visitors canceled travel plans amid deteriorating relations between the neighbors, Japanese government data showed on Wednesday.
(Japan Times)
Aug 21
Korean Air says it will suspend more flights from South Korea to Japan, due to lower travel demand amid worsening bilateral ties between the two countries.
(NHK)
Aug 21
People who traveled in Japan by rail, air and road decreased from a year earlier during the Bon summer holidays due to a heavy storm.
(Japan Times)
Aug 19
Japan's government is promoting private lodgings for tourists who will visit during the Olympic and Paralympic games next summer.
(NHK)
Aug 16
A powerful typhoon ripped through western Japan on Thursday, leaving one man dead and about 50 people injured, while greatly disrupting summer holiday traffic.
(Kyodo)
Aug 15
Air carriers in Japan have canceled 549 domestic flights for Thursday due to a severe tropical storm approaching western Japan.
(NHK)
Aug 14
Japan's Meteorological Agency is warning of torrential rains of more than 1,000 millimeters in some areas as severe tropical storm Krosa approaches the western part of the country.
(NHK)
Aug 14
The Meteorological Agency is warning of heavy rain as severe tropical storm Krosa approaches western Japan. Agency officials say it could make landfall by Thursday.
(NHK)
Aug 13
Severe tropical storm Krosa is moving northwest over waters south of Japan. It could make landfall somewhere in the country by Thursday.
(NHK)
---