Japan's swine fever epidemic is spreading, with local authorities in five central and western prefectures saying Wednesday they are struggling to contain the highly contagious virus that was first reported in September.
"We are facing an extremely serious situation," farm minister Takamori Yoshikawa told a meeting at his ministry in Tokyo while instructing officials to take thorough countermeasures. The ministry also set up a special task force in Gifu Prefecture to step up containment efforts.
Spreading from farms in Gifu, the hog cholera virus was newly detected by prefectural and local authorities at farms in neighboring Aichi as well as in Osaka, Shiga and Nagano prefectures.
The total number of pigs to be culled at affected farms is expected to reach 15,000.
"It worries me that we don't know how the disease is spreading," said a pig farmer in Iida, Nagano Prefecture. "The only thing we can do is to thoroughly manage hygiene."
The disease does not affect humans even if meat from an infected animal is consumed, but it is fatal to pigs and boars.
Around 130 wild boars in Gifu and Aichi prefecture have tested positive for infection despite experts' initial assumption that it would not spread among the animals, which typically do not live in large herds.
Although there is a vaccine to counter classic swine fever, using it could prevent Japan from regaining its World Organization for Animal Health status as a CSF free country, hindering Japan's plan to expand pork exports. The organization already suspended Japan's such status after the outbreak in September.
Yasuhiro Ozato, a senior vice farm minister, expressed reluctance to use the vaccine, saying, "We will seek to resolve this by sticking to hygiene control standards."
The Aichi prefectural government began culling around 6,600 pigs at a farm in the city of Toyota with the help of the Ground Self-Defense Force, while banning shipments from six other farms located within 10 kilometers.
Jun 01
Japan's government is asking people to continue taking preventative measures against the coronavirus after a renewed surge in cases in the southwestern city of Kitakyushu.
(NHK)
Jun 01
The government of Tokyo confirmed five COVID-19 infections Sunday — the first time in six days the daily figure came in at under 10.
(Japan Times)
Jun 01
In Italy, they sing from balconies. In the UK, they place pictures of rainbows in windows. In India, they chant "Go corona." Around the world, solidarity in the face of the coronavirus is taking many forms. In Japan, that form has three legs, a beak, scaly skin and floor-length hair. Meet Amabie, the 19th century half-fish, half-human that's resurfaced to keep people safe.
(NHK)
Jun 01
People in Japan enjoyed outside activities on Saturday and Sunday, as the country marked the first weekend since its state of emergency over the COVID-19 epidemic was fully lifted on May 25.
(Japan Times)
Jun 01
A 58-year-old member of a yakuza gang was wounded in a shooting in Okayama on Saturday afternoon.
(Japan Today)
Jun 01
A common situation when visiting or living in other countries is having to talk about where you come from. Unless you happen to be from one of the handful of major metropolises in the world, chances are people abroad will never have heard of your particular hometown.
(soranews24.com)
Jun 01
Top favorite Contrail remained on track to win the Japanese triple crown this year after blowing past the field in the 87th running of the Japanese Derby on Sunday.
(Kyodo)
Jun 01
Japan's government is set to ask all independent administrative corporations and government-designated corporations handling personal information, to consider security risks when purchasing telecommunication equipment.
(NHK)
Jun 01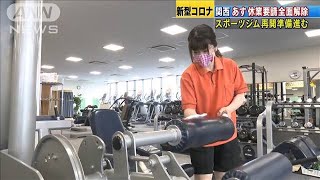 People at a sports club in Tokyo have enjoyed playing tennis and soccer on the first Sunday since the state of emergency was lifted in the Japanese capital.
(NHK)
May 31
Fourteen new coronavirus infections were reported in Tokyo on Saturday, a local official said.
(Japan Today)
---