A Japanese court on Tuesday ordered two former classmates of a junior high school student -- who killed himself in 2011 -- to pay damages totaling about 37.5 million yen, acknowledging that their bullying led to his death.
The focal point of the trial at the Otsu District Court was whether they had bullied the 13-year-old boy, and if there was a causal link between bullying and his death.
The bereaved family had claimed the boy was driven to death by bullying and sought a total of 38.5 million yen from three former classmates and their parents.
However, the court denied the third former classmate was liable to pay compensation, citing his lack of involvement. As for the defendants' parents, it found no breach of supervisory duties.
"The assault by the two former classmates had escalated and as the student's relations with friends collapsed...he felt a strong sense of isolation and started to think he wanted to die," Presiding Judge Shigeyasu Nishioka said in handing down the ruling.
During the hearing, the family argued there had been "harsh bullying," with the former classmates forcing the boy to eat a dead bee and constantly telling him to die.
The defendants admitted some actions they were accused of by the family, but claimed they had thought they were just playing together.
Mar 23
A key part of the business model for convenience stores is their round-the-clock service. But a shortage of staffers is prompting some operators to consider shrinking their business hours.
(NHK)
Mar 23
A member of a sister group of the popular all-girl band AKB48 on Friday criticized the outcome of a probe into an assault against her as "lies," as the group's management company revealed the result.
(Japan Today)
Mar 23
The number of foreign residents in Japan had risen 6.6 percent at the end of 2018 from a year earlier, to reach a record high of some 2.73 million, Justice Ministry data showed on Friday.
(Japan Times)
Mar 22
The cherry blossom season officially arrived in Tokyo on Thursday after officials from the Meteorological Agency confirmed that more than five blossoms had opened on a Somei-Yoshino cherry tree at Yasukuni Shrine in Chiyoda Ward.
(Japan Times)
Mar 22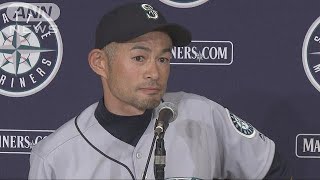 Japanese baseball legend Ichiro Suzuki of the US Major Leagues' Seattle Mariners has announced his retirement.
(NHK)
Mar 21
Cherry trees came into bloom Wednesday in the southwestern prefecture of Nagasaki, the first blooming of the "Somei Yoshino" variety in Japan this spring, according to the Japan Meteorological Agency.
(Japan Today)
Mar 21
Police on Wednesday arrested an American man on suspicion of fatally stabbing his Japanese wife at a court where they were to settle a divorce.
(Japan Today)
Mar 21
The unmanned space probe Hayabusa2 has detected small amounts of minerals containing water on the surface of the asteroid Ryugu, a Japanese research team has said.
(Japan Times)
Mar 21
Police on Thursday arrested a 14-year-old junior high school boy on suspicion of attempted murder after he stabbed a classmate at their school in Saijo, Ehime Prefecture.
(Japan Today)
Mar 20
The head of the Japanese Olympic Committee has announced he will step down when his term expires in June.
(NHK)
---