The cabinet of Prime Minister Shinzo Abe on Tuesday approved a bill to revise the enforcement of the civil law to enable the handover of a child to a parent who is awarded custody even if the other parent refuses to abide by a court order to transfer guardianship.
Currently, the law has no clear stipulation on such handovers, leaving court officials to rely on a clause related to asset seizure to enforce child custody orders. The current system has drawn criticism due to the fact it treats children as property.
Japan will similarly revise legislation implementing The Hague Convention on the Civil Aspects of International Child Abduction, an international treaty providing a framework allowing the return of a child internationally abducted by a parent.
At present, Japanese legislation requires a parent living with a child to be present in person when the child is handed over to the other parent, the proposed revision will allow a transfer without both parents being there.
The convention, to which Japan acceded in 2014, sets out rules and procedures for the prompt return to the country of habitual residence of children under 16 taken or retained by one parent, if requested by the other parent.
The bill to modify the civil execution law also included revisions to allow Japanese courts to obtain debtors' financial information and bar registered crime syndicate members from acquiring foreclosed real estate properties in public auctions.
May 25
A male Canadian national employed at a day care facility in Kitakyushu City who was caught abusing a child on video has had his contract canceled by the facility, reports Fuji News Network (May 21).
(tokyoreporter.com)
May 23
Sony Corp. will tackle game addiction, its chief executive said Wednesday as the World Health Organization prepares to formally recognize it as a disorder.
(Japan Times)
May 22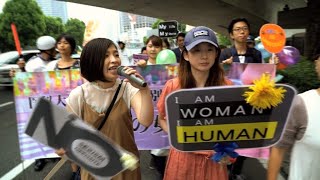 This year's pass ratio of female applicants for admission to the scandal-tainted Tokyo Medical University, which had discriminated against women for more than a decade, was slightly higher than that of male applicants, figures released by the university have shown.
(Japan Times)
May 20
In recent years, we've heard a number of disturbing accounts involving teachers hitting students at Japanese schools, and this week, another disturbing case came to light, when a foreign English-language instructor was seen slapping a two-year-old child during a class at a child daycare facility.
(Japan Today)
May 18
The Japanese school year starts in April, and one high school in Tochigi Prefecture wasted no time in scheduling a two-night class trip for its new crop of first-year students.
(soranews24.com)
May 17
The government said Thursday it plans to reduce the number of dementia patients in their 70s by 10 percent over the next decade, setting the first such numerical goal to curb growing welfare spending at a time when the Japanese population is rapidly aging.
(Japan Today)
May 11
Japan enacted legislation Friday making preschool education free as part of Prime Minister Shinzo Abe's drive to expand child care support and stem the country's falling birthrate.
(Japan Today)
May 08
A 15-year-old junior high school girl killed herself last week after leaving a note accusing a male coach at her table tennis club of verbal abuse, a local education board said Monday.
(Japan Times)
May 05
May 5 is Children's Day in Japan. But the number of children in the country has declined for 38 straight years since 1982, and is now at an all-time-low.
(NHK)
May 01
A 56-year-old man has admitted to leaving knives on the desk of Prince Hisahito at a junior high school in Tokyo, investigative sources said Tuesday.
(Japan Today)
---