Japan recorded its biggest trade deficit in almost five years in January, extending its run of red ink to a fourth month as exports to China tumbled.
Figures released by Japan's Finance Ministry on Wednesday show the deficit for the month was 1.4 trillion yen, about 12.7 billion dollars.
Exports to all markets were down 8.4 percent from a year earlier in yen terms, largely due to a decline in sales of ships and semiconductor-making machines.
Imports declined by 0.6 percent, the result of lower crude oil prices.
Exports to China fell by 17.4 percent. Ministry officials say that could be due to China's slowing economy. They say the Lunar New Year holidays may also have dented demand.
On the other hand, Japan's surplus with the US grew for the first time in seven months, climbing 5.1 percent from a year earlier. US-bound auto exports rose by 13 percent.
輸出が減少した影響で、4年10カ月ぶりの大幅な赤字となりました。 財務省が発表した今年1月の貿易収支は輸入額が6兆9895億円とおおむね横ばいで推移する一方で、輸出額は2年ぶりの低さとなる5兆5742億円に減少し、差し引きで1兆4152億円の赤字になりました。
Mar 23
A key part of the business model for convenience stores is their round-the-clock service. But a shortage of staffers is prompting some operators to consider shrinking their business hours.
(NHK)
Mar 22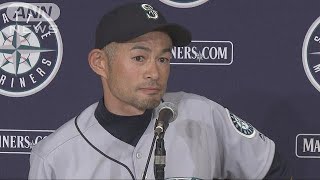 Japanese baseball legend Ichiro Suzuki of the US Major Leagues' Seattle Mariners has announced his retirement.
(NHK)
Mar 21
Cherry trees came into bloom Wednesday in the southwestern prefecture of Nagasaki, the first blooming of the "Somei Yoshino" variety in Japan this spring, according to the Japan Meteorological Agency.
(Japan Today)
Mar 21
Police on Wednesday arrested an American man on suspicion of fatally stabbing his Japanese wife at a court where they were to settle a divorce.
(Japan Today)
Mar 21
The unmanned space probe Hayabusa2 has detected small amounts of minerals containing water on the surface of the asteroid Ryugu, a Japanese research team has said.
(Japan Times)
Mar 20
The head of the Japanese Olympic Committee has announced he will step down when his term expires in June.
(NHK)
Mar 19
Japan's space probe operating on an asteroid some 340 million kilometers from Earth is preparing to study the asteroid's interior by creating an artificial impact crater.
(NHK)
Mar 19
Japanese rock singer Yuya Uchida died of pneumonia on Sunday. He was 79 years old.
(NHK)
Mar 16
Trains in and around the Japanese capital will run later into the night during the Tokyo 2020 Olympic Games to allow spectators to get home easily from events.
(NHK)
Mar 16
Chiba Prefectural Police on Friday announced the arrest of a 38-year-old man over the alleged theft of children's slippers from schools across the country, reports the Asahi Shimbun
(tokyoreporter.com)
---