The Tokyo High Court on Wednesday sentenced a man to 12 years in prison for abducting a teenage girl and keeping her in captivity for two years from 2014, annulling the lower court ruling that gave him a nine-year jail term.
Prosecutors had said the earlier decision in March last year was too light considering the vicious nature of the crime. They had demanded a 15-year prison term for Kabu Terauchi, who abducted the girl in a car as she was on her way home from a junior high school in Asaka, Saitama Prefecture, on March 10, 2014.
The high court acknowledged that Terauchi, 26, is able to take full criminal responsibility for his actions.
"It was an extremely cunning crime with the victim's mind manipulated by calling the girl by her name, which he confirmed in advance," Presiding Judge Atsuo Wakazono said in handing down the ruling.
Terauchi had also appealed the decision by the Saitama District Court, with his lawyers claiming that it was wrong for it to rule that he was fully competent to be held criminally liable due to schizophrenia.
While the lower court determined the physical confinement was moderate as Terauchi left a window unlocked or went on a trip, Wakazono said the man controlled the girl, now 18 years old, psychologically and those aspects should not be taken into account.
According to the ruling, Terauchi held her captive first at his apartment in Chiba, east of Tokyo, and later in another apartment in Tokyo's Nakano Ward until March 2016, causing her to suffer severe post-traumatic stress disorder.
東京高裁は懲役9年の判決を破棄し、懲役12年を言い渡しました。 寺内樺風被告(26)は2014年3月、埼玉県朝霞市で当時中学1年の少女を誘拐し、約2年間にわたって監禁するなどしたとして一審のさいたま地裁で懲役9年の判決を受けました。
May 26
Temperatures rose across Japan on Saturday to highs usually not seen until the height of summer, causing hundreds of people to be taken to hospitals and prompting the weather agency to issue heatstroke warnings.
(Japan Today)
May 26
Japan's top trade negotiator with the United States has said both sides continue to differ on negotiations for a trade deal, adding that they need to work further to narrow the gap.
(NHK)
May 26
US President Donald Trump is scheduled to spend a full day with Prime Minister Shinzo Abe on Sunday, ahead of their summit on Monday.
(NHK)
May 26
In sumo, rank-and-file wrestler Asanoyama has clinched his first tournament title.
(NHK)
May 25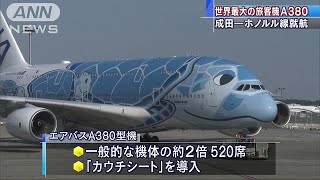 All Nippon Airways debuted flights of a double-decker Airbus A380 from Narita Airport north of Tokyo, bound for Hawaii on Friday.
(NHK)
May 24
The government will no longer use the term "lifelong singles" as a label for people who have not married by age 50, deeming the term inaccurate as Japanese are increasingly tying the knot later in life, officials said Thursday.
(Japan Today)
May 24
Many parts of Japan saw the mercury top 30 degrees Celsius on Thursday. Weather officials are warning of unseasonal high temperatures over the weekend.
(NHK)
May 24
Police in Japan are stepping up security for an upcoming visit by US President Donald Trump.
(NHK)
May 24
Japan's new supercomputer Fugaku is set to begin operations around 2021 with the country aiming to regain the title of building the world's fastest computer, replacing its current supercomputer K, government-backed research institute Riken said Thursday.
(Japan Times)
May 23
Kyoto Prefectural Police have arrested a 23-year-old male Australian national who is suspected of scrawling graffiti in dozens of locations in Kyoto City, reports Fuji News Network (May 22).
(tokyoreporter.com)
---