The Tokyo High Court on Wednesday sentenced a man to 12 years in prison for abducting a teenage girl and keeping her in captivity for two years from 2014, annulling the lower court ruling that gave him a nine-year jail term.
Prosecutors had said the earlier decision in March last year was too light considering the vicious nature of the crime. They had demanded a 15-year prison term for Kabu Terauchi, who abducted the girl in a car as she was on her way home from a junior high school in Asaka, Saitama Prefecture, on March 10, 2014.
The high court acknowledged that Terauchi, 26, is able to take full criminal responsibility for his actions.
"It was an extremely cunning crime with the victim's mind manipulated by calling the girl by her name, which he confirmed in advance," Presiding Judge Atsuo Wakazono said in handing down the ruling.
Terauchi had also appealed the decision by the Saitama District Court, with his lawyers claiming that it was wrong for it to rule that he was fully competent to be held criminally liable due to schizophrenia.
While the lower court determined the physical confinement was moderate as Terauchi left a window unlocked or went on a trip, Wakazono said the man controlled the girl, now 18 years old, psychologically and those aspects should not be taken into account.
According to the ruling, Terauchi held her captive first at his apartment in Chiba, east of Tokyo, and later in another apartment in Tokyo's Nakano Ward until March 2016, causing her to suffer severe post-traumatic stress disorder.
東京高裁は懲役9年の判決を破棄し、懲役12年を言い渡しました。 寺内樺風被告(26)は2014年3月、埼玉県朝霞市で当時中学1年の少女を誘拐し、約2年間にわたって監禁するなどしたとして一審のさいたま地裁で懲役9年の判決を受けました。
Mar 23
A key part of the business model for convenience stores is their round-the-clock service. But a shortage of staffers is prompting some operators to consider shrinking their business hours.
(NHK)
Mar 23
A member of a sister group of the popular all-girl band AKB48 on Friday criticized the outcome of a probe into an assault against her as "lies," as the group's management company revealed the result.
(Japan Today)
Mar 23
The number of foreign residents in Japan had risen 6.6 percent at the end of 2018 from a year earlier, to reach a record high of some 2.73 million, Justice Ministry data showed on Friday.
(Japan Times)
Mar 22
The cherry blossom season officially arrived in Tokyo on Thursday after officials from the Meteorological Agency confirmed that more than five blossoms had opened on a Somei-Yoshino cherry tree at Yasukuni Shrine in Chiyoda Ward.
(Japan Times)
Mar 22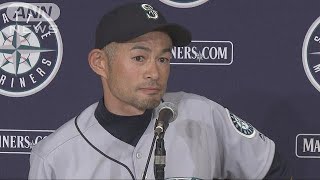 Japanese baseball legend Ichiro Suzuki of the US Major Leagues' Seattle Mariners has announced his retirement.
(NHK)
Mar 21
Cherry trees came into bloom Wednesday in the southwestern prefecture of Nagasaki, the first blooming of the "Somei Yoshino" variety in Japan this spring, according to the Japan Meteorological Agency.
(Japan Today)
Mar 21
Police on Wednesday arrested an American man on suspicion of fatally stabbing his Japanese wife at a court where they were to settle a divorce.
(Japan Today)
Mar 21
The unmanned space probe Hayabusa2 has detected small amounts of minerals containing water on the surface of the asteroid Ryugu, a Japanese research team has said.
(Japan Times)
Mar 21
Police on Thursday arrested a 14-year-old junior high school boy on suspicion of attempted murder after he stabbed a classmate at their school in Saijo, Ehime Prefecture.
(Japan Today)
Mar 20
The head of the Japanese Olympic Committee has announced he will step down when his term expires in June.
(NHK)
---