A mother and her boyfriend were arrested Thursday for allegedly injuring the woman's 8-year-old daughter by binding her wrists and forcing her into a cold bath at their home in Fukuoka Prefecture last month, police said.
The 29-year-old mother, whose name is being withheld to prevent the girl from being identified, and Jun Yahiro, 29, allegedly injured the daughter in the afternoon of Jan. 24 at their home in the city of Chikushino.
Yahiro, who lived with the two, is also suspected of hitting the girl several times around midnight that day, according to the police.
The woman and Yahiro have admitted to the allegations, according to police.
"I did it to discipline her because she had wet the bed," the mother was quoted by the police as saying.
Investigators suspect the girl may have been subjected to daily abuse.
A teacher at the girl's elementary school found bruises on her body on Jan. 25 and the school informed a local child welfare center, which took her into protective custody the same day and reported the case to police.
福岡県筑紫野市で8歳の長女の手を縛って無理やり水風呂に入れたり 繰り返し殴ったりするなどの暴行を加え、けがをさせたとして、 母親と、同居する29歳の男の2人が逮捕されました。
Mar 23
A key part of the business model for convenience stores is their round-the-clock service. But a shortage of staffers is prompting some operators to consider shrinking their business hours.
(NHK)
Mar 22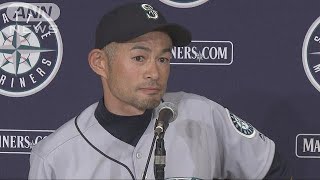 Japanese baseball legend Ichiro Suzuki of the US Major Leagues' Seattle Mariners has announced his retirement.
(NHK)
Mar 21
Cherry trees came into bloom Wednesday in the southwestern prefecture of Nagasaki, the first blooming of the "Somei Yoshino" variety in Japan this spring, according to the Japan Meteorological Agency.
(Japan Today)
Mar 21
Police on Wednesday arrested an American man on suspicion of fatally stabbing his Japanese wife at a court where they were to settle a divorce.
(Japan Today)
Mar 21
The unmanned space probe Hayabusa2 has detected small amounts of minerals containing water on the surface of the asteroid Ryugu, a Japanese research team has said.
(Japan Times)
Mar 20
The head of the Japanese Olympic Committee has announced he will step down when his term expires in June.
(NHK)
Mar 19
Japan's space probe operating on an asteroid some 340 million kilometers from Earth is preparing to study the asteroid's interior by creating an artificial impact crater.
(NHK)
Mar 19
Japanese rock singer Yuya Uchida died of pneumonia on Sunday. He was 79 years old.
(NHK)
Mar 16
Trains in and around the Japanese capital will run later into the night during the Tokyo 2020 Olympic Games to allow spectators to get home easily from events.
(NHK)
Mar 16
Chiba Prefectural Police on Friday announced the arrest of a 38-year-old man over the alleged theft of children's slippers from schools across the country, reports the Asahi Shimbun
(tokyoreporter.com)
---