Hokkaido Prefectural Police have arrested the coach of a girl's basketball team in Sapporo for allegedly kissing a player at his residence last year, reports Nikkan Sports
At around 6:30 p.m. on February 26, Hidenobu Hakamada, 52, allegedly kissed the girl, an elementary school student, on the lips in the entrance of his residence in Kita Ward in committing an act deemed obscene.
Hakamada, who has been accused of indecent assault, partially denies the allegations. "I kissed [her], but I did not do anything obscene," the suspect was quoted by the Sapporo-Kita Police Station.
According to police, Hakamada is employed as a staff member in a nursing department for the city of Sapporo. The incident took place after he invited several girls to his residence upon the completion of practice.
At the residence, they joked about eating shoes. One of the girls said she would oblige, putting her footwear in her mouth.
Prior to his arrest on Tuesday, the suspect told a reporter for Nippon News Network (Feb. 26) that he kissed several of the girls at his residence. The parents of one of them later consulted with police.
Police are now investigating whether Hakamada sexually abused other girls on the basketball team.
札幌市のミニバスケットボール少年団の指導員の男が女子児童にわいせつな行為をしたとして逮捕・送検されました。男は他の教え子にもわいせつな行為をしていたとみられています。 逮捕・送検されたのは札幌市北区の介護職員・袴田英伸容疑者(52)です。
Mar 23
A key part of the business model for convenience stores is their round-the-clock service. But a shortage of staffers is prompting some operators to consider shrinking their business hours.
(NHK)
Mar 22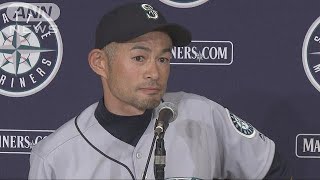 Japanese baseball legend Ichiro Suzuki of the US Major Leagues' Seattle Mariners has announced his retirement.
(NHK)
Mar 21
Cherry trees came into bloom Wednesday in the southwestern prefecture of Nagasaki, the first blooming of the "Somei Yoshino" variety in Japan this spring, according to the Japan Meteorological Agency.
(Japan Today)
Mar 21
Police on Wednesday arrested an American man on suspicion of fatally stabbing his Japanese wife at a court where they were to settle a divorce.
(Japan Today)
Mar 21
The unmanned space probe Hayabusa2 has detected small amounts of minerals containing water on the surface of the asteroid Ryugu, a Japanese research team has said.
(Japan Times)
Mar 20
The head of the Japanese Olympic Committee has announced he will step down when his term expires in June.
(NHK)
Mar 19
Japan's space probe operating on an asteroid some 340 million kilometers from Earth is preparing to study the asteroid's interior by creating an artificial impact crater.
(NHK)
Mar 19
Japanese rock singer Yuya Uchida died of pneumonia on Sunday. He was 79 years old.
(NHK)
Mar 16
Trains in and around the Japanese capital will run later into the night during the Tokyo 2020 Olympic Games to allow spectators to get home easily from events.
(NHK)
Mar 16
Chiba Prefectural Police on Friday announced the arrest of a 38-year-old man over the alleged theft of children's slippers from schools across the country, reports the Asahi Shimbun
(tokyoreporter.com)
---