Japan's Emperor Akihito has begun a series of rituals leading to his abdication on April 30.
The first ceremonies were held at the three Imperial sanctuaries on the palace grounds in Tokyo on Tuesday.
The Emperor, dressed in an ancient court costume, first visited the main sanctuary, called Kashikodokoro.
The Emperor bowed and read out an ancient-worded script to report his abdication and its date to Imperial ancestor Amaterasu-omikami, the sun goddess, who is enshrined there.
He later staged similar rites at the two other sanctuaries, Koreiden and Shinden, which are dedicated to the souls of Imperial ancestors and various Japanese deities.
The Imperial Household Agency says it plans to stage the series of abdication rituals in a solemn and quiet manner.
Unlike the rites for enthronement, the prime minister and the heads of the legislative and judicial branches did not attend Tuesday's rituals.
Emperor Akihito is due to report his abdication at the Mausoleum of Emperor Jinmu in Nara Prefecture, who is Japan's first emperor, according to legend.
He will also visit the Ise Shrine in Mie Prefecture and the Mausoleum of his father, the late Emperor Showa, in suburban Tokyo.
Rituals by the outgoing Emperor at the three sanctuaries in the Imperial Palace are due to take place again on the day of his abdication on April 30.
12日から退位までに11ある儀式が次々に執り行われる。天皇陛下が皇室の祖先などを祭る皇居の宮中三殿で退位を報告する儀式に臨まれた。 12日午前、皇居の宮中三殿。黄櫨染御袍(こうろぜんのごほう)と呼ばれる装束にを包んだ天皇陛下はまず宮中三殿の中央にある賢所に向かわれた。
Mar 23
A key part of the business model for convenience stores is their round-the-clock service. But a shortage of staffers is prompting some operators to consider shrinking their business hours.
(NHK)
Mar 22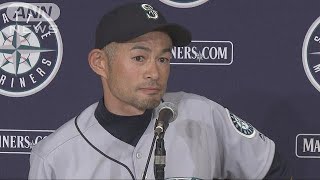 Japanese baseball legend Ichiro Suzuki of the US Major Leagues' Seattle Mariners has announced his retirement.
(NHK)
Mar 21
Cherry trees came into bloom Wednesday in the southwestern prefecture of Nagasaki, the first blooming of the "Somei Yoshino" variety in Japan this spring, according to the Japan Meteorological Agency.
(Japan Today)
Mar 21
Police on Wednesday arrested an American man on suspicion of fatally stabbing his Japanese wife at a court where they were to settle a divorce.
(Japan Today)
Mar 21
The unmanned space probe Hayabusa2 has detected small amounts of minerals containing water on the surface of the asteroid Ryugu, a Japanese research team has said.
(Japan Times)
Mar 20
The head of the Japanese Olympic Committee has announced he will step down when his term expires in June.
(NHK)
Mar 19
Japan's space probe operating on an asteroid some 340 million kilometers from Earth is preparing to study the asteroid's interior by creating an artificial impact crater.
(NHK)
Mar 19
Japanese rock singer Yuya Uchida died of pneumonia on Sunday. He was 79 years old.
(NHK)
Mar 16
Trains in and around the Japanese capital will run later into the night during the Tokyo 2020 Olympic Games to allow spectators to get home easily from events.
(NHK)
Mar 16
Chiba Prefectural Police on Friday announced the arrest of a 38-year-old man over the alleged theft of children's slippers from schools across the country, reports the Asahi Shimbun
(tokyoreporter.com)
---