Japan's Emperor Akihito has begun a series of rituals leading to his abdication on April 30.
The first ceremonies were held at the three Imperial sanctuaries on the palace grounds in Tokyo on Tuesday.
The Emperor, dressed in an ancient court costume, first visited the main sanctuary, called Kashikodokoro.
The Emperor bowed and read out an ancient-worded script to report his abdication and its date to Imperial ancestor Amaterasu-omikami, the sun goddess, who is enshrined there.
He later staged similar rites at the two other sanctuaries, Koreiden and Shinden, which are dedicated to the souls of Imperial ancestors and various Japanese deities.
The Imperial Household Agency says it plans to stage the series of abdication rituals in a solemn and quiet manner.
Unlike the rites for enthronement, the prime minister and the heads of the legislative and judicial branches did not attend Tuesday's rituals.
Emperor Akihito is due to report his abdication at the Mausoleum of Emperor Jinmu in Nara Prefecture, who is Japan's first emperor, according to legend.
He will also visit the Ise Shrine in Mie Prefecture and the Mausoleum of his father, the late Emperor Showa, in suburban Tokyo.
Rituals by the outgoing Emperor at the three sanctuaries in the Imperial Palace are due to take place again on the day of his abdication on April 30.
12日から退位までに11ある儀式が次々に執り行われる。天皇陛下が皇室の祖先などを祭る皇居の宮中三殿で退位を報告する儀式に臨まれた。 12日午前、皇居の宮中三殿。黄櫨染御袍(こうろぜんのごほう)と呼ばれる装束にを包んだ天皇陛下はまず宮中三殿の中央にある賢所に向かわれた。
May 27
Scorching heat hit Japan on Sunday. The temperature shot up to over 39 degrees Celsius in the northernmost prefecture of Hokkaido. That's a national record high for May.
(NHK)
May 27
Three people remained missing as of Sunday evening after two Japanese cargo ships collided during the early morning hours off the coast of Chiba Prefecture, the Japan Coast Guard said.
(Japan Times)
May 26
Temperatures rose across Japan on Saturday to highs usually not seen until the height of summer, causing hundreds of people to be taken to hospitals and prompting the weather agency to issue heatstroke warnings.
(Japan Today)
May 26
Japan's top trade negotiator with the United States has said both sides continue to differ on negotiations for a trade deal, adding that they need to work further to narrow the gap.
(NHK)
May 25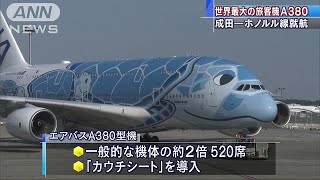 All Nippon Airways debuted flights of a double-decker Airbus A380 from Narita Airport north of Tokyo, bound for Hawaii on Friday.
(NHK)
May 24
Many parts of Japan saw the mercury top 30 degrees Celsius on Thursday. Weather officials are warning of unseasonal high temperatures over the weekend.
(NHK)
May 23
Kyoto Prefectural Police have arrested a 23-year-old male Australian national who is suspected of scrawling graffiti in dozens of locations in Kyoto City, reports Fuji News Network (May 22).
(tokyoreporter.com)
May 23
The International Olympic Committee says boxing is set to maintain its place in the 2020 Tokyo Games, but that the sport's international association should be excluded from organizing the events due to a number of problems.
(NHK)
May 23
Junnosuke Taguchi, a former member of Japanese boy band KAT-TUN, was arrested Wednesday on suspicion of possessing marijuana, the Narcotics Control Department said.
(Japan Times)
May 22
Tokyo DisneySea has begun its largest expansion project ever.
(NHK)
---