Last year proved to be a pivotal one for streaming music in Japan. According to a report by the Recording Industry Association of Japan, 2018 saw plays via platforms such as YouTube, Apple Music and Spotify overtake digital downloads.
This would be a great piece of evidence for futurists trying to argue that the Japanese music market is actually catching up to where most other nations are today. But mucking that up is the total lack of info regarding physical sales, a still-major slice of the proverbial pie. And recent changes only underline how important they are, even as different developments point toward other directions.
Tower Records opened Tower Vinyl on the 10th floor of its Shinjuku store on March 21. The space, once reserved for pop-up events, now houses 70,000 records, according to the company, with more than half being secondhand.
It stands as the latest sign of a renewed interest in records in Japan. HMV launched a new Shibuya location devoted to vinyl in 2014 after several years out of the area — and has since opened more stores.
Contemporary J-pop acts have started releasing vinyl editions of their albums, probably helped by Sony opening a new pressing plant. You can even spot more boutique record shops sprouting up (like in Yoyogi-Uehara, where you can now find old city pop and yacht rock albums at a place called Adult Oriented Records). Record Store Day Japan has grown from a niche celebration to a bonanza bringing in Yellow Magic Orchestra members as spokespeople.
The "vinyl revival" has been a trend for a while now globally, with sales in the U.S. continuing to grow according to Nielsen Music. Plenty of digital ink has been spilled on why this is happening, though I'm a fan of the theory that it is partially because consumers are starting to value physical music in an age of digital impermanence (though even tactile releases can disappear from shops here if an artist is caught enjoying narcotics). It's also a bit of a status flex.
Sep 20
A Japanese district court has found all three former executives of Tokyo Electric Power Company not guilty in the only criminal prosecution stemming from the 2011 nuclear disaster in Fukushima.
(NHK)
Sep 20
E-commerce giant Amazon Japan has announced it will launch a locker delivery service called Amazon Hub at the major convenience store chain FamilyMart and train stations along the Odakyu line.
(Japan Today)
Sep 18
Toyota Motor Corp. rolled out a new model of the Corolla on Tuesday, making it the first fully redesigned sedan in about seven years.
(Kyodo)
Sep 18
The Japanese government is considering tighter restrictions on foreign investment in industries it sees as key to national security, such as nuclear power and chipmaking.
(Nikkei)
Sep 13
Yahoo Japan's acquisition of online fashion retailer Zozo presents an opportunity for the venerable internet services company to bring fresh blood into its e-commerce audience as the business looks to step outside the shadow of Amazon.com and Rakuten.
(Nikkei)
Sep 11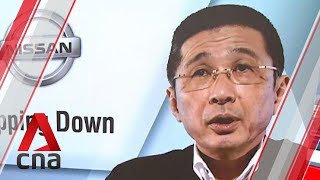 In Japan, is there one standard of justice for Japanese executives and another for non-Japanese executives? The forced resignation on Monday of Nissan Motor Co.'s chief executive officer, Hiroto Saikawa, certainly seems to suggest as much.
(Bloomberg)
Sep 11
Japan's real gross domestic product retreated 0.5% in July compared with the previous month as rising imports led to negative external demand, the Japan Center for Economic Research reported Wednesday.
(Nikkei)
Sep 10
The month between World Suicide Prevention Day on September 10 and World Mental Health Day on October 10 is a good time to start considering the under-discussed topics of anxiety, depression and suicide in our society, especially as they relate to the workplace.
(Nikkei)
Sep 10
Nissan Chief Executive Hiroto Saikawa tendered his resignation Monday after acknowledging that he had received dubious income and vowed to pass the leadership of the Japanese automaker to a new generation.
(Japan Today)
Sep 10
日本にはラスベガスやマカオにあるような本格的カジノはありませんが、最近では本格的に遊べるオンラインカジノが増えつつあります。
(newsonjapan.com)
---