Those hoping to watch a tennis match featuring No. 1-ranked Naomi Osaka at the 2020 Tokyo Olympics Games will likely face long odds in the upcoming ticket lottery.
The games' organizing committee announced Thursday that it will accept ticket applications from Japan residents from May 9 at 10 a.m. through May 28, with the results announced June 20.
Customers will first need to create a Tokyo 2020 ID through the organizing committee's website to apply for tickets starting Thursday. Applicants will select their desired events, seats and number of tickets. Individuals can buy up to 30 tickets total, but purchases are capped at two to eight people based on the event.
Tickets to popular events, such as track finals, will be selected through the lottery, with the results announced June 20.
Winners will choose delivery and payment method, with payments due July 2, the Tokyo Organizing Committee of the Olympic and Paralympic Games said. The tickets will then be issued starting next spring.
The upcoming sales are for residents of Japan, with a special discount for groups including children, seniors or individuals with disabilities. People living outside Japan will be able to make purchases through authorized ticket resellers from June 15, or through the sales website next spring. The number of available tickets has not been disclosed, as some stadiums are still under construction.
Jul 15
Japan is planning to start letting foreign residents who left the country before April 3 back in, starting in August.
(Nikkei)
Jul 15
People in Tokyo are watching with wary eyes as the latest daily case numbers hover in the mid-100s after topping 200 four days in a row through Sunday.
(NHK)
Jul 15
Torrential rain has devastated parts of Japan. In the western region of Chugoku, thousands of people have been ordered to evacuate after a major river burst its banks. Officials are having a tough time helping the survivors while maintaining anti-COVID measures.
(NHK)
Jul 15
A panel under the justice minister proposed Tuesday establishing criminal penalties for foreign nationals who do not comply with deportation orders as Japan seeks to curb long-term detention of foreigners at immigration facilities.
(Japan Times)
Jul 15
Japan's government is considering whether to request business closures for nightlife establishments that fail to follow its guidelines to prevent the spread of the coronavirus.
(NHK)
Jul 15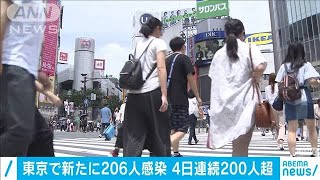 An advisory panel of experts to Japan's health ministry warns that coronavirus infections are continuing to spread throughout the country.
(NHK)
Jul 14
Japanese Prime Minister Abe Shinzo says the government will compile a financial package of more than 3.7 billion dollars to help regions in the southwest and elsewhere left battered by record rainfall.
(NHK)
Jul 14
A fireball that brightened the Tokyo sky earlier this month has been identified as a meteor after fragments were found in a neighboring prefecture, a national science museum said Monday.
(Japan Times)
Jul 14
Heavy rains in the northern part of Japan's Kyushu island are threatening the territory with landslides and flooding.
(NHK)
Jul 13
The new coronavirus infection count has been rising across the nation with more than 200 cases reported in Tokyo on Sunday.
(NHK)
---