Those hoping to watch a tennis match featuring No. 1-ranked Naomi Osaka at the 2020 Tokyo Olympics Games will likely face long odds in the upcoming ticket lottery.
The games' organizing committee announced Thursday that it will accept ticket applications from Japan residents from May 9 at 10 a.m. through May 28, with the results announced June 20.
Customers will first need to create a Tokyo 2020 ID through the organizing committee's website to apply for tickets starting Thursday. Applicants will select their desired events, seats and number of tickets. Individuals can buy up to 30 tickets total, but purchases are capped at two to eight people based on the event.
Tickets to popular events, such as track finals, will be selected through the lottery, with the results announced June 20.
Winners will choose delivery and payment method, with payments due July 2, the Tokyo Organizing Committee of the Olympic and Paralympic Games said. The tickets will then be issued starting next spring.
The upcoming sales are for residents of Japan, with a special discount for groups including children, seniors or individuals with disabilities. People living outside Japan will be able to make purchases through authorized ticket resellers from June 15, or through the sales website next spring. The number of available tickets has not been disclosed, as some stadiums are still under construction.
May 26
Temperatures rose across Japan on Saturday to highs usually not seen until the height of summer, causing hundreds of people to be taken to hospitals and prompting the weather agency to issue heatstroke warnings.
(Japan Today)
May 26
Japan's top trade negotiator with the United States has said both sides continue to differ on negotiations for a trade deal, adding that they need to work further to narrow the gap.
(NHK)
May 26
US President Donald Trump is scheduled to spend a full day with Prime Minister Shinzo Abe on Sunday, ahead of their summit on Monday.
(NHK)
May 26
In sumo, rank-and-file wrestler Asanoyama has clinched his first tournament title.
(NHK)
May 25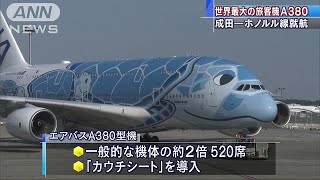 All Nippon Airways debuted flights of a double-decker Airbus A380 from Narita Airport north of Tokyo, bound for Hawaii on Friday.
(NHK)
May 24
The government will no longer use the term "lifelong singles" as a label for people who have not married by age 50, deeming the term inaccurate as Japanese are increasingly tying the knot later in life, officials said Thursday.
(Japan Today)
May 24
Many parts of Japan saw the mercury top 30 degrees Celsius on Thursday. Weather officials are warning of unseasonal high temperatures over the weekend.
(NHK)
May 24
Police in Japan are stepping up security for an upcoming visit by US President Donald Trump.
(NHK)
May 24
Japan's new supercomputer Fugaku is set to begin operations around 2021 with the country aiming to regain the title of building the world's fastest computer, replacing its current supercomputer K, government-backed research institute Riken said Thursday.
(Japan Times)
May 23
Kyoto Prefectural Police have arrested a 23-year-old male Australian national who is suspected of scrawling graffiti in dozens of locations in Kyoto City, reports Fuji News Network (May 22).
(tokyoreporter.com)
---