The world's smallest baby boy, who was born in October in Japan weighing as much as an apple, is now ready for the outside world, his doctor said Friday.
Ryusuke Sekiya was delivered via emergency Caesarean section, after 24 weeks and five days of pregnancy as his mother Toshiko experienced hypertension.
At 258 grams (9.1 ounces) he was even lighter than the previous record holder, another Japanese boy who weighed just 268 grams when he was born last year. That baby was discharged from a Tokyo hospital in February.
When Ryusuke was born on October 1, 2018, he measured 22 centimeters tall, and medical staff kept him in a neonatal intensive care unit.
They used tubes to feed him, sometimes taking cotton swabs to apply his mother's milk to his mouth.
Nearly seven months later, the boy has grown 13 times in weight, now weighing over three kilograms. He will be released from Nagano Children's Hospital in central Japan over the weekend.
長野県立こども病院で生まれた、世界で一番小さな赤ちゃんが20日、退院する。関野竜佑ちゃんは去年10月1日、身長22センチ、体重258グラムで生まれた。竜佑ちゃんは母乳のほかに、点滴で栄養を摂取し、18日の時点で身長43.5センチ、体重は3374グラムにまで成長した。
May 26
Temperatures rose across Japan on Saturday to highs usually not seen until the height of summer, causing hundreds of people to be taken to hospitals and prompting the weather agency to issue heatstroke warnings.
(Japan Today)
May 26
Japan's top trade negotiator with the United States has said both sides continue to differ on negotiations for a trade deal, adding that they need to work further to narrow the gap.
(NHK)
May 26
US President Donald Trump is scheduled to spend a full day with Prime Minister Shinzo Abe on Sunday, ahead of their summit on Monday.
(NHK)
May 26
In sumo, rank-and-file wrestler Asanoyama has clinched his first tournament title.
(NHK)
May 25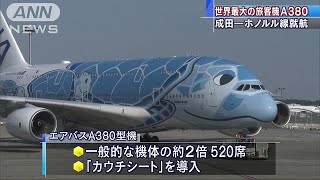 All Nippon Airways debuted flights of a double-decker Airbus A380 from Narita Airport north of Tokyo, bound for Hawaii on Friday.
(NHK)
May 24
The government will no longer use the term "lifelong singles" as a label for people who have not married by age 50, deeming the term inaccurate as Japanese are increasingly tying the knot later in life, officials said Thursday.
(Japan Today)
May 24
Many parts of Japan saw the mercury top 30 degrees Celsius on Thursday. Weather officials are warning of unseasonal high temperatures over the weekend.
(NHK)
May 24
Police in Japan are stepping up security for an upcoming visit by US President Donald Trump.
(NHK)
May 24
Japan's new supercomputer Fugaku is set to begin operations around 2021 with the country aiming to regain the title of building the world's fastest computer, replacing its current supercomputer K, government-backed research institute Riken said Thursday.
(Japan Times)
May 23
Kyoto Prefectural Police have arrested a 23-year-old male Australian national who is suspected of scrawling graffiti in dozens of locations in Kyoto City, reports Fuji News Network (May 22).
(tokyoreporter.com)
---