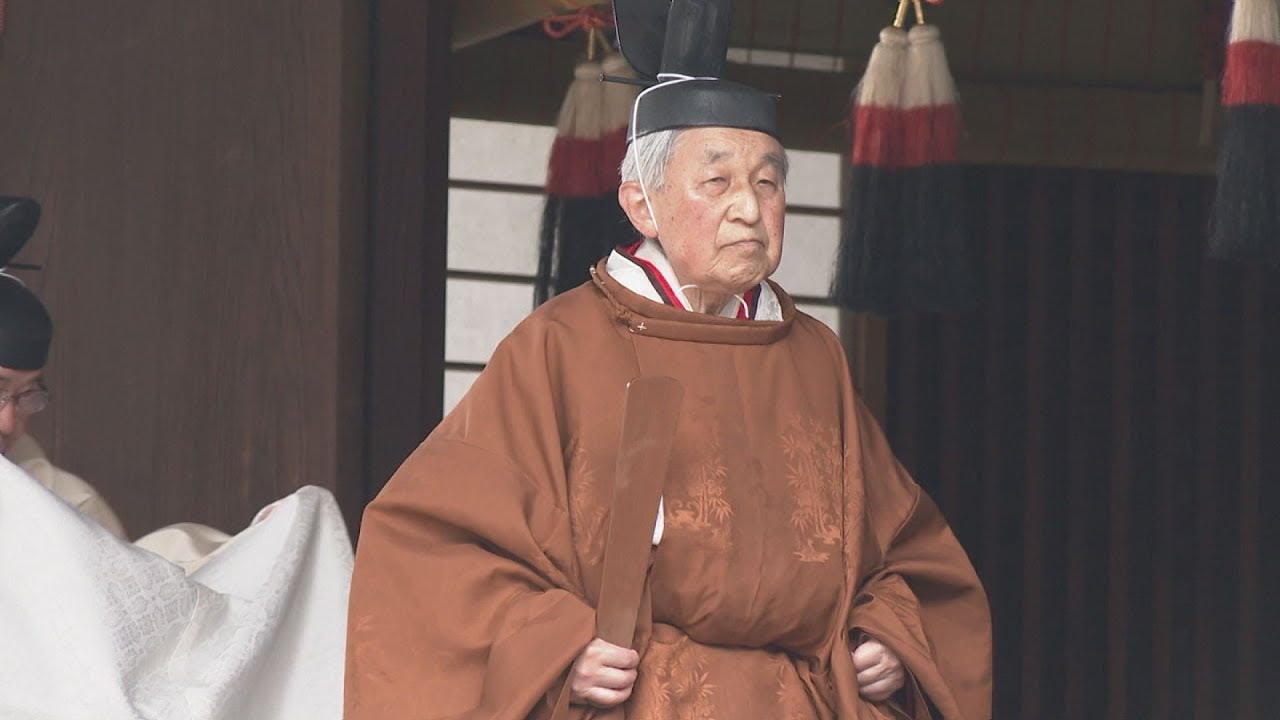 Emperor Akihito is set to abdicate, bringing the three-decade-long Heisei era to a close. A ceremony to mark the occasion was held at the Imperial Palace.
Prime Minister Shinzo Abe spoke on behalf of the people of Japan.
Abe said, "On this day of Your Majesty's abdication, we look back on the years during which Your Majesty has always stood by the people to share their joys and sorrows -- and we renew our deep respect and gratitude for Your Majesty."
The Prime Minister said, "We will keep in our minds the steps Your Majesty has taken to this point and continue to do our utmost to make Japan a country which is peaceful, full of hope, and one we can be proud of. We sincerely hope for the long and healthy lives of Your Majesties the Emperor and Empress."
Emperor Akihito then gave his last speech to the people in his current role.
The Emperor said, "Today, I am concluding my duties as the Emperor. I would like to offer my deep gratitude to the words just spoken by Prime Minister Shinzo Abe on behalf of the people of Japan."
The Emperor said, "Since ascending the throne 30 years ago, I have performed my duties as the Emperor with a deep sense of trust in and respect for the people, and I consider myself most fortunate to have been able to do so. I sincerely thank the people who accepted and supported me in my role as the symbol of the State."
The Emperor said, "I sincerely wish, together with the Empress, that the Reiwa era, which begins tomorrow, will be a stable and fruitful one, and I pray, with all my heart, for peace and happiness for all the people in Japan and around the world."
This is the first time in over 200 years that a living Emperor will abdicate. As the ceremony ended, the Emperor turned back to the audience and bowed.
Three years ago, Emperor Akihito expressed concern his advanced age could make it difficult to continue carrying out his duties. The Diet enacted a law to specifically allow him to step down.
He was the first to be enthroned under the post-war Constitution that defines the Emperor's role as a "symbol of the State."
His son, Crown Prince Naruhito will ascend the throne at the start of Wednesday. He'll be the 126th Emperor of Japan.
退位礼正殿の儀における天皇陛下のおことば 今日をもち、天皇としての務めを終えることになりました。 ただ今、国民を代表して、安倍内閣総理大臣の述べられた言葉に、深く謝意を表します。
Aug 22
With the Rugby World Cup kicking off Sept. 20 in Japan, communities across the country are preparing for the 500,000-plus visitors expected to attend.
(Nikkei)
Aug 22
A Shinkansen bullet train made an emergency stop after one of its doors opened while speeding through northeastern Japan.
(NHK)
Aug 22
The number of South Korean tourists visiting Japan fell last month to its lowest in nearly a year as visitors canceled travel plans amid deteriorating relations between the neighbors, Japanese government data showed on Wednesday.
(Japan Times)
Aug 21
Korean Air says it will suspend more flights from South Korea to Japan, due to lower travel demand amid worsening bilateral ties between the two countries.
(NHK)
Aug 21
Immigration authorities revoked a record 832 visas in 2018, more than double the figure of a year earlier, Justice Ministry data showed Monday.
(Japan Times)
Aug 21
Japan has approved shipments of a high-tech material to South Korea for the second time since imposing export curbs last month, two sources told Reuters news agency, ahead of talks between government officials this week to resolve a bitter dispute stemming from their wartime past.
(aljazeera.com)
Aug 19
Police in Japan have arrested a man on a national wanted list who is suspected of forcibly stopping a car and beating the driver on a highway.
(NHK)
Aug 19
Anime fans from around the world continue to visit Kyoto to mourn the victims of the arson attack on a famous animation studio one month ago.
(NHK)
Aug 19
More than 2,000 people tested their skills at scooping up goldfish at an annual event in Nara Prefecture, western Japan, on Sunday.
(NHK)
Aug 19
Japan's government is promoting private lodgings for tourists who will visit during the Olympic and Paralympic games next summer.
(NHK)
---