Japan's SoftBank Group Corp is considering an initial public offering of its $100 billion Vision Fund, a source familiar with the matter said on Friday.
The fund was set up in 2017 and has become the world's largest technology investment fund. Its investments include ride-hailing pioneer Uber, chip designer ARM and shared workspace firm WeWork.
The company has publicly stated it plans to set up a second investment fund. The senior banking source said SoftBank was now talking to banks about helping it raise money, confirming an earlier report in the Wall Street Journal.
SoftBank has spoken to half a dozen banks over the last month about a potential listing of the Vision Fund but has yet to start a formal process, the source said, adding he was not expecting such a process in the near term.
SoftBank is also in talks with Oman for an investment in the fund, which has raised nearly all of its funding so far from Saudi Arabia and Abu Dhabi, according to the WSJ report.
Aug 21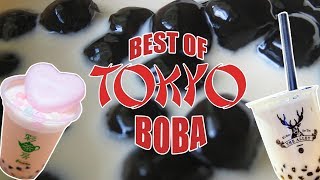 Japan's current bubble tea craze has sent tapioca imports soaring to meet the demand for the drink made with cold milk and tapioca balls.
(Asahi)
Aug 21
Japan has approved shipments of a high-tech material to South Korea for the second time since imposing export curbs last month, two sources told Reuters news agency, ahead of talks between government officials this week to resolve a bitter dispute stemming from their wartime past.
(aljazeera.com)
Aug 21
Up to 3.41 million people, accounting for about 5 percent of Japan's total labor force, are estimated to be working as freelancers, according to a recent survey conducted by the government.
(Japan Times)
Aug 18
Japan will tighten control over foreign investments in domestic companies involved in semiconductors and other high-tech industries by focusing on the purchase of shares that carry voting rights, Nikkei learned Saturday.
(Nikkei)
Aug 10
LCD maker Japan Display has escaped immediate bankruptcy by lining up 80 billion yen ($758 million) in aid from Chinese investors, but the company remains dogged by uncertainty over the long-delayed rescue.
(Nikkei)
Aug 10
Japan's economy grew at a faster-than-expected clip in the second quarter, official data showed on Friday, helped by celebrations to usher in a new imperial era.
(Japan Today)
Aug 10
Earnings season in Japan is highlighting a recent plunge in inbound spending and its impact on drugstore chains, cosmetics makers and department stores previously favored by big-spending Chinese tourists.
(Nikkei)
Aug 09
To much of the world Japan is the home of video games.
(newsonjapan.com)
Aug 08
Japan Post Bank appears set to place a limit on over-the-counter international cash transfers to better address money laundering.
(NHK)
Aug 07
A government panel decided Tuesday to end Saturday delivery for standard mail to deal with a labor shortage at Japan Post Co and a drop in demand due to increased use of the internet.
(Japan Today)
---