Tourist destinations are struggling for ways to ask tourists to stop eating while walking without offending them.
One such place is Nishiki Market, which for over 400 years has been known as the kitchen of Kyoto. The municipal government estimates that around 30 percent of all foreign tourists in Kyoto in 2017 visited the market and its more than 120 stores selling kyōyasai (heirloom vegetables), fresh fish or pickled vegetables.
In recent years, many shops have been selling foods that are easy to eat while walking, such as fried food on skewers, in line with the increase in foreign travelers, according to the market association.
However, litter has now become common on the narrow street. Also, concern has grown that in crowded conditions pedestrians risk getting injured by sharp food sticks carried by others.
In a bid to address these problems, the association has asked stores since last October to display signs saying "No eating while walking" in Japanese, English, Chinese and Korean.
Since the market association doesn't want to drive tourists away, for now it is asking them to cooperate rather than outright banning the practice. On its website, the association calls on people to eat their food at the shop where it was purchased.
Aug 22
With the Rugby World Cup kicking off Sept. 20 in Japan, communities across the country are preparing for the 500,000-plus visitors expected to attend.
(Nikkei)
Aug 22
A Shinkansen bullet train made an emergency stop after one of its doors opened while speeding through northeastern Japan.
(NHK)
Aug 22
The number of South Korean tourists visiting Japan fell last month to its lowest in nearly a year as visitors canceled travel plans amid deteriorating relations between the neighbors, Japanese government data showed on Wednesday.
(Japan Times)
Aug 22
Japan's two largest opposition parties said Tuesday they will form a joint group in both houses of the Diet in an attempt to challenge the ruling bloc's dominance.
(Japan Today)
Aug 22
Tokyo Metropolitan Police have arrested a 50-year-old man over the alleged abduction of a middle school girl in order to molest her last month, reports TBS News (Aug. 21).
(tokyoreporter.com)
Aug 22
It has always been a mystery why Summer Sonic is not held in the relative cool of June or July, but at the very height of summer, when the August sun beats down upon the festival's outdoor stages or typhoons power through the country, threatening disruption and cancellations to the event's packed schedule.
(Japan Times)
Aug 21
Korean Air says it will suspend more flights from South Korea to Japan, due to lower travel demand amid worsening bilateral ties between the two countries.
(NHK)
Aug 21
Immigration authorities revoked a record 832 visas in 2018, more than double the figure of a year earlier, Justice Ministry data showed Monday.
(Japan Times)
Aug 21
Japan's Prince Hisahito has paid a courtesy call on the King and Queen of Bhutan.
(NHK)
Aug 21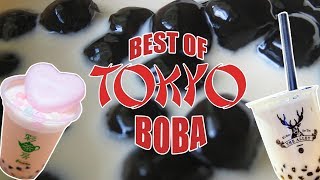 Japan's current bubble tea craze has sent tapioca imports soaring to meet the demand for the drink made with cold milk and tapioca balls.
(Asahi)
---