Two children died and 13 people were injured Wednesday morning after one of two vehicles that collided hit a group of pedestrians from a nursery school in the city of Otsu in Shiga Prefecture.
The group of children, aged between 2 and 3, were taking a walk from the nursery school when the incident occurred, Shiga Prefectural Police said.
Gaku Ito, a 2-year-old boy, and Yui Harada, a 2-year-old girl, died, while 11 other children and two teachers who were with them were injured. Of the 11 children taken to the hospital, two were in critical condition but later regained consciousness, the police said. The two teachers were also taken to the hospital.
Two female drivers — Fumiko Shintate, 52, and Michiko Shimoyama, 62 — were arrested at the scene. The crash occurred at around 10:15 a.m. at a crossing in a residential area in Otsu. One of the vehicles spun into the children as they were waiting for the traffic light to change.
According to police, a car driven by Shintate was making a right turn when it collided with the minivehicle driven by Shimoyama coming from the opposite direction, which then hit the group of children.
The crossing is 200 meters away from the Leimond Nursery School attended by the children. According to local residents, preschoolers and their teachers are frequently seen taking walks in the area. There is a lot of traffic on the road near the area, they said.
大津市で保育園児の列に車が突っ込んだ事故で、市によりますと、15人がけが、このうち3人が意識不明でしたが、2人の死亡が確認されたということです。「レイモンド淡海保育園」の園児が巻き込まれたということです。現在も消防や警察による鑑識活動が続けられています。
May 26
Temperatures rose across Japan on Saturday to highs usually not seen until the height of summer, causing hundreds of people to be taken to hospitals and prompting the weather agency to issue heatstroke warnings.
(Japan Today)
May 26
Japan's top trade negotiator with the United States has said both sides continue to differ on negotiations for a trade deal, adding that they need to work further to narrow the gap.
(NHK)
May 25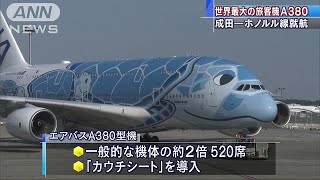 All Nippon Airways debuted flights of a double-decker Airbus A380 from Narita Airport north of Tokyo, bound for Hawaii on Friday.
(NHK)
May 24
Many parts of Japan saw the mercury top 30 degrees Celsius on Thursday. Weather officials are warning of unseasonal high temperatures over the weekend.
(NHK)
May 23
Kyoto Prefectural Police have arrested a 23-year-old male Australian national who is suspected of scrawling graffiti in dozens of locations in Kyoto City, reports Fuji News Network (May 22).
(tokyoreporter.com)
May 23
The International Olympic Committee says boxing is set to maintain its place in the 2020 Tokyo Games, but that the sport's international association should be excluded from organizing the events due to a number of problems.
(NHK)
May 23
Junnosuke Taguchi, a former member of Japanese boy band KAT-TUN, was arrested Wednesday on suspicion of possessing marijuana, the Narcotics Control Department said.
(Japan Times)
May 22
Tokyo DisneySea has begun its largest expansion project ever.
(NHK)
May 22
A Japanese government committee has decided on the route of a parade scheduled for October to celebrate the enthronement of Emperor Naruhito.
(NHK)
May 22
The Supreme Court and other legal professionals in Japan have hosted a symposium to mark the tenth anniversary of the introduction of the country's lay judge system.
(NHK)
---