U.S. President Donald Trump is expected to attend the final day of the upcoming Summer Grand Sumo Tournament.
Often when visiting dignitaries watch sumo at Ryogoku Kokugikan they are seated in the Imperial Box, but on this occasion the White House has reportedly requested front-row seats.
One can only imagine the reaction of United States Secret Service officials when they heard the current incumbent wanted to sit among the general public in an arena that holds 11,000 people and has complete freedom of movement.
Even if the president has a four-person masu (box) to himself, he probably won't want to sit cross-legged on the floor for any length of time.
With Trump slated to mount the dohyo with Prime Minister Shinzo Abe, and present a trophy, the likelihood is that he will only be seated in his box for the last bout or two.
Abe himself is no stranger to the venue and has presented the Prime Minister's Trophy in person several times.
The photo op is something that many of his predecessors also found hard to ignore.
In that respect sumo is no different than any other sport, as politicians worldwide are quick to jump on sporting success and grab a little reflected glory.
Oct 20
Long queues for replica shirts, desperate searches for tickets and TV stations showing Japan's wins on a loop: excitement is building ahead of the host nation's historic Rugby World Cup quarterfinal against South Africa.
(Japan Today)
Oct 17
The International Olympic Committee is considering moving the marathons and race walking events for the 2020 Summer Games from Tokyo to the northern island of Hokkaido amid concerns about the Japanese capital's stiflingly hot weather.
(Nikkei)
Oct 14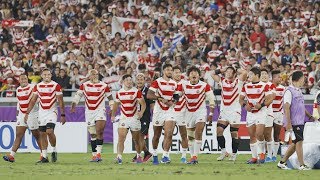 Japan captain Michael Leitch said Sunday's historic win over Scotland at the Rugby World Cup was the Brave Blossoms' way of helping the nation in the aftermath of Typhoon Hagibis and thanking those that helped put the game on.
(Kyodo)
Oct 13
In Rugby World Cup action, the final eight teams advancing to the knockout stage have been decided.
(NHK)
Oct 12
World Rugby slammed Scotland over a "disappointing" threat of legal action on Friday as tempers flared over fears their pivotal game with World Cup hosts Japan will be cancelled because of a typhoon.
(Japan Times)
Oct 11
Rugby World Cup organizers announced Thursday that two crucial pool games scheduled to take place on Saturday have been canceled to avoid the impact of a massive super typhoon set to hit the country.
(Japan Times)
Oct 11
Tennis star Naomi Osaka says she aims to play for the host country of the 2020 Tokyo Olympics by choosing Japanese nationality.
(NHK)
Oct 07
Japan's Naomi Osaka came from a set down to beat French Open champion and world No. 1 Ashleigh Barty on Sunday and win the China Open.
(Japan Times)
Oct 06
Kotaro Matsushima scored a bonus-point try deep into injury time as Japan moved to the brink of their first Rugby World Cup quarterfinal with a 38-19 Pool A victory over Samoa at the City of Toyota Stadium on Saturday.
(Japan Today)
Oct 04
The gambling laws in Japan are not the easiest to work out and understand. The big point is that no legal casinos exist in the country, although that doesn't stop other forms of gambling from existing as a stand alone service.
(newsonjapan.com)
---