A record 3,129 people were stranded on Japanese mountains last year amid a continued boom in activities such as climbing and walking, a police report revealed Thursday.
That represented a rise of 18 from the previous year, while the number of accidents increased 78 to 2,661, the highest recorded since comparable data became available in 1961.
In contrast, the number of dead and missing people dropped 12 to 342, the National Police Agency said, with more than 70 percent of them aged 60 or older, the report said.
Altogether, 50.5 percent of people stranded, and 71.9 percent of those who died or are still missing, were in their 60s or older.
The largest group of people in distress was those aged 70 or older, accounting for 698, or 22.3 percent, followed by those in their 60s, at 692, or 22.1 percent, and people in their 50s, at 486, or 15.5 percent.
Among the dead and missing, 110, or 32.2 percent, were in their 70s, 101, or 29.5 percent, in their 60s, and 42, or 12.3 percent, in their 50s.
By activity, 385, or 12.3 percent, were picking wild vegetables or mushrooms.
A total of 111 overseas tourists were stranded, more than half of them while off-piste skiing, according to the report.
全国の山で去年1年間に遭難した人の数が最悪を更新したことが分かりました。 警察庁によりますと、去年、全国の山で遭難した人の数は前の年に比べて18人増え、3129人でした。遭難の発生件数も2600件を超え、遭難者数とともに統計の残る1961年以降、最悪になりました。外国人旅行者などの遭難者数は2014年から5倍以上に増え、111人に上りました。一方、水難事故では前の年に比べて死者数が13人増え、692人に上りました。海での事故が半数以上を占めましたが、中学生以下の子どもは河川での事故が45%を超えていたということです。
Nov 12
One month has passed since record rain brought by a strong typhoon caused extensive damage in much of Japan.
(NHK)
Nov 12
Two days after he fled in Osaka Prefecture, prosecutors on Monday caught a man indicted on drug charges who escaped while being transferred to police custody after his bail was revoked.
(Japan Times)
Nov 12
On Thursday evening, Emperor Naruhito will dress in pure white robes and be ushered into a dark wooden hall for his last major enthronement rite: spending the night with a "goddess."
(Japan Today)
Nov 11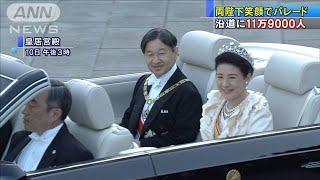 Japan's new Emperor and Empress enthralled people in Tokyo and around the nation with a lavish procession through the streets of the capital.
(NHK)
Nov 10
The suspect in a deadly arson attack in July on a Kyoto Animation Co studio has been questioned by police for the first time as he recovers from severe burns, investigative sources said Saturday.
(Japan Today)
Nov 09
Mt Sakurajima volcano shot smoke and ash miles into the sky on Friday in its biggest eruption in more than three years, Kyodo News reported.
(Japan Today)
Nov 09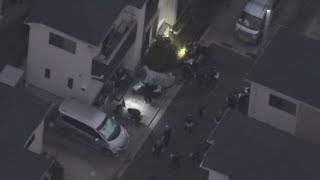 A 55-year-old man was found dead in his home in western Tokyo on Friday with more than 30 stab wounds while the property appeared to have been ransacked, police said.
(Japan Today)
Nov 09
The Japanese Prime Minister has apologized for the postponement of the planned introduction of private-sector English tests for university admission.
(NHK)
Nov 08
The season's first haul of snow crabs, a winter delicacy, has fetched record prices at a port in western Japan.
(NHK)
Nov 07
All 10 Shinkansen bullet trains that were damaged last month by Typhoon Hagibis in Nagano, central Japan, will be scrapped.
(NHK)
---