The tragedy that struck Kyoto Animation has sent shock waves across the world, as the Japanese studio's works are highly regarded both at home and abroad.
The death toll from the Thursday morning fire rose by one to 34. The police have arrested a 41-year-old man who is suspected of putting gasoline to the first floor of the three-story building and igniting it.
"Kyoto Animation is home to some of the world's most talented animators and dreamers -- the devastating attack today is a tragedy felt far beyond Japan," Apple CEO Tim Cook tweeted Friday. "KyoAni artists spread joy all over the world and across generations with their masterpieces."
The Chinese Embassy in Tokyo expressed condolences to the dead and sympathy for the injured in a Japanese-language statement accompanied by a photo of the building. Messages of support for the studio were posted on China's Weibo social media network. "I have seen many of their works," a fan wrote. "This is a huge loss."
Taiwanese President Tsai Ing-wen tweeted her condolences Thursday. "I heard about the arson and murder at Kyoto Animation during my trip abroad, and I was surprised and am grieving," the message said in Japanese. "Kyoto Animation represents memories of youth for many people of Taiwan. I pray that those who perished rest in peace, and for the speedy recovery of those who were injured."
Tweets with the hashtag #PrayForKyoani exceeded 210,000 as of midnight Friday.
Kyoto Animation logged sales of 2.4 billion yen ($22 million) for the year ended March 2018, according to Teikoku Databank. It develops and produces TV series as well as movies. A 2011 film about high school girls in a band -- "K-On! The Movie!" -- earned about 1.9 billion yen at the box office.
Kyoto Animation has many overseas fans who see its works as representative of Japan's high-quality anime. Netflix and Amazon.com are among the services offering viewing of the studio's anime.
The company handled coloring work after its 1981 founding but later began in-house production. In the latter half of the 2000s, it pioneered the genre depicting the mundane daily lives of young people.
Jun 03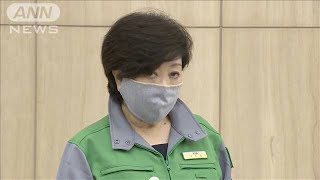 Officials in Tokyo have issued an alert after confirming the highest daily tally of coronavirus infections in weeks.
(NHK)
Jun 03
Japan's Prime Minister Abe Shinzo has effectively given up on plans to change the start of the nation's school year from April to September.
(NHK)
Jun 03
A hearing at a Tokyo court was suspended for hours on Tuesday after defense lawyers refused to wear face masks.
(NHK)
Jun 03
Japan approved Tuesday a PCR coronavirus test using saliva, which is much safer and easier compared with the currently dominant method, which collects mucus from the back part of the nose.
(Japan Times)
Jun 03
Experts in Japan are calling on people to use face masks cautiously in the summer when the risk of heatstroke increases.
(NHK)
Jun 02
Japan is considering easing entry bans on people from four Asia-Pacific countries where coronavirus infections are now apparently under control.
(NHK)
Jun 02
Regulations to protect workers in Japan from abusive bosses and colleagues took effect Monday to criticism that it only provides a road map to desk-bound bullies.
(Nikkei)
Jun 02
Many tourist spots across Japan reopened Monday, a week after the full lifting of a state of emergency, with precautions in place against the novel coronavirus amid growing concern over a second wave of infections.
(Kyodo)
Jun 02
Universal Studios Japan will reopen its doors on June 8 to annual ticket holders who live in Osaka Prefecture after being closed for around three months due to the coronavirus pandemic, the operator said Monday.
(Japan Times)
Jun 01
Japan's government is asking people to continue taking preventative measures against the coronavirus after a renewed surge in cases in the southwestern city of Kitakyushu.
(NHK)
---