After Sunday's election, the ruling Liberal Democratic Party — along with its coalition partner Komeito — remains firmly in the saddle with a strong majority in both the Upper and Lower Houses of the Diet.
While the results of the poll were not surprising, they do reaffirm that Prime Minister Shinzo Abe's administration will likely cement its hold on power until his final term concludes in 2021 — assuming the LDP does look to extend his term beyond that point.
Post-election, one of the key areas for Abe will be foreign policy. Although he has been a source of stability on the global stage, he will be tasked with dealing with a host of critical issues in the coming months.
First, the Abe administration may face challenges ahead in maintaining its strong relationship with the United States.
Abe has expended considerable time and effort in building a personal rapport with U.S. President Donald Trump, and the two have now met on a dozen occasions — in addition to more than 25 official phone calls. The two leaders last met on the sidelines of the Group of 20 summit in Osaka, just days after Japan was blindsided by a report that Trump was mulling the option of withdrawing from the U.S.-Japan security treaty, the bedrock of security in the Asia Pacific. The report, which both administrations dismissed, once again led to concerns about the U.S. commitments to its key allies, including Japan.
On one hand it is tempting to dismiss the report and point to the strong shared interests and growth in the U.S.-Japan alliance. But it would be foolish to entirely dismiss the risks, and there are real issues to be managed in the coming year.
First, Japan and the U.S. will have to finalize their special measures negotiation, which will cover host-nation support cost-sharing within the alliance. The current deal is set to expire at the end of the fiscal year in 2020. Trump has on multiple occasions critiqued Japan — and other allies such as South Korea and those in NATO — for not covering an adequate amount of costs for the deployment of U.S. troops.
How will Japan look to address the accusation of free-riding?
The Abe administration will surely point again to its large purchases of U.S. defense equipment — including the Aegis Ashore missile defense system and its plan to increase its order of F-35 fighter jets. Tokyo will also tactfully point to its large share of host-nation support — considerably more equitable than other large basing countries like South Korea and Germany — but that is unlikely to be enough to fully satiate Trump.
This will lead to difficult decisions on the role and contribution of the Self Defense Forces — as outlined by the current U.S. plans to assemble a multilateral coalition to safeguard commercial vessel traffic in the Strait of Hormuz amid an uptick of tensions with Iran.
Second, despite Abe successfully delaying any serious trade deal progress with the U.S. until after the Upper House election, he will need to face a Trump administration that is running low on patience and heading into election campaign-mode in America — a potentially dangerous formula as Japan looks to determine what concessions can be made on trade. The proposed agreement on goods would represent the first serious free trade effort between Washington and Tokyo since the Trump administration withdrew from the Trans-Pacific Partnership agreement.
Jun 03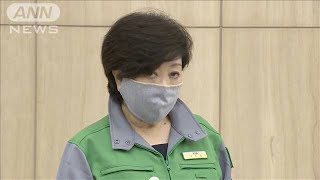 Officials in Tokyo have issued an alert after confirming the highest daily tally of coronavirus infections in weeks.
(NHK)
Jun 03
Japan's Prime Minister Abe Shinzo has effectively given up on plans to change the start of the nation's school year from April to September.
(NHK)
Jun 03
A hearing at a Tokyo court was suspended for hours on Tuesday after defense lawyers refused to wear face masks.
(NHK)
Jun 03
Japan approved Tuesday a PCR coronavirus test using saliva, which is much safer and easier compared with the currently dominant method, which collects mucus from the back part of the nose.
(Japan Times)
Jun 03
Experts in Japan are calling on people to use face masks cautiously in the summer when the risk of heatstroke increases.
(NHK)
Jun 02
Japan is considering easing entry bans on people from four Asia-Pacific countries where coronavirus infections are now apparently under control.
(NHK)
Jun 02
Regulations to protect workers in Japan from abusive bosses and colleagues took effect Monday to criticism that it only provides a road map to desk-bound bullies.
(Nikkei)
Jun 02
Many tourist spots across Japan reopened Monday, a week after the full lifting of a state of emergency, with precautions in place against the novel coronavirus amid growing concern over a second wave of infections.
(Kyodo)
Jun 02
Universal Studios Japan will reopen its doors on June 8 to annual ticket holders who live in Osaka Prefecture after being closed for around three months due to the coronavirus pandemic, the operator said Monday.
(Japan Times)
Jun 01
Japan's government is asking people to continue taking preventative measures against the coronavirus after a renewed surge in cases in the southwestern city of Kitakyushu.
(NHK)
---