The South Korean government says it will not extend an intelligence-sharing pact with Japan. Bilateral relations are tense over issues including trade and wartime labor.
The deputy director of South Korea's presidential national security office, Kim You-geun, said they had concluded that the agreement on the exchange of military intelligence is not in line with the country's national interests.
The agreement had been automatically renewed every year since it was signed in 2016.
Either side can pull out by giving notice by Saturday.
Japan and the United States had urged South Korea to extend the agreement.
They say 3-way cooperation, including the intelligence-sharing pact, is essential to counter threats from North Korea.
A senior official at Japan's defense ministry told NHK that South Korea's decision is unbelievable, and the government will consider its response.
Bilateral ties became strained after rulings by the South Korean Supreme Court. It ordered Japanese companies to pay compensation to South Koreans who say they were forced to work for them during World War Two.
Early this month, Japan decided to remove South Korea from a list of countries entitled to simplified export procedures. That decision will take effect next week.
日本と韓国のGSOMIA(軍事情報包括保護協定)について韓国政府は22日午後、日本が貿易管理上の優遇対象国から韓国を除外したことを理由に破棄すると発表しました。 韓国大統領府はGSOMIA更新期限の24日を前に記者会見を開き、「GSOMIAを終了する」と発表しました。日本が貿易管理上の優遇対象国から韓国を除外したことを理由に挙げました。これによって北朝鮮のミサイルなどに関する軍事情報を共有できなくなり、日米韓の連携にも深刻な影響が出そうです。韓国では日本の輸出規制に対する反発が続いていて、韓国政府高官は21日に「韓国を信頼できないという国と敏感な軍事情報をやり取りすることが適切なのかという面では最後の瞬間まで悩み、慎重な決定を下すつもりだ」と述べていました。 韓国・ソウルから報告です。 (高橋政光記者報告) 韓国メディアは韓国政府の記者会見が始まってから各社、速報で伝えています。そして、GSOMIA破棄を発表した韓国大統領府の高官はGSOMIAについて、韓国の国益に合致しないという厳しい言葉で切って捨てました。その背景は韓国大統領府関係者によりますと、21日の日韓外相会談でも日本の姿勢に変化が見られなかったことをその理由に挙げています。韓国としてはこれまで日本に特使を派遣して対話の場を持とうとしたのだけれども日本側がそれに応じてくれなかったという主張です。韓国政府はこれを事前にアメリカに通報していて、日本にもこの後に連絡するということです。文政権は日本への強硬姿勢を続けていて、今後もしばらくは続きそうです。 (Q.貿易管理上の優遇対象国から韓国を外したということが理由だということは、つまりホワイト国から除外したことを一番の理由にしているということか?) まさにその通りで今回、日本のホワイト国除外措置に対する、いわゆる対抗措置として報復措置として行ったことがGSOMIAの破棄だということです。そして、韓国政府関係者によりますと、日本が輸出規制措置を撤回したならばGSOMIAの再開を検討しても良いというような発言まで出てきています。いわば日本側の経済的な対応に安保的な対応を報復措置として出したというのが今回の発表になります。
Mar 29
Prime Minister Shinzo Abe gave the nation a dire warning Saturday that it could see its hospitals overwhelmed and the death toll skyrocket if the coronavirus gets out of control, but pledged to draw up an economic relief package even bigger than the one used to sustain the economy during the 2008 global financial crisis.
(Japan Times)
Mar 28
Japanese Prime Minister Shinzo Abe has dismissed criticism of his wife attending a gathering to view cherry blossoms at a time when such a meeting is not recommended because of the threat of the coronavirus.
(NHK)
Mar 28
Prime Minister Shinzo Abe has warned that Japan's economy would be hard hit if Tokyo is locked down due to the coronavirus.
(NHK)
Mar 28
The health ministry said Friday 92 passengers and crew members aboard a flight from Chicago to Narita airport near Tokyo were allowed to enter Japan without being asked to self-isolate for 14 days and refrain from using public transport.
(Japan Today)
Mar 27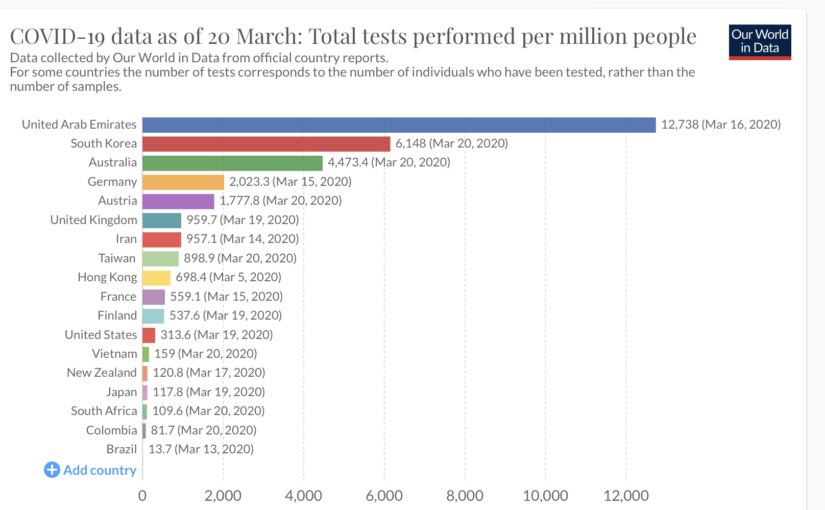 Germany has decided that saving lives is more important than saving face. In a rather undiplomatic letter to German citizens in Japan posted on the Embassy Of Germany's web site on March 24, the embassy did not mince words in discussing Japan's poor handling of coronavirus testing. It warns that we should assume there are a high number of unreported carriers.
(japansubculture.com)
Mar 27
On Wednesday night, Tokyo Governor Yuriko Koike asked residents of Japan's capital to remain home as much as possible over the coming weekend in order to minimize the spread of the coronavirus. Now, one day after Tokyoites were told to stay in their homes, people in all four of its neighboring prefectures are being told to stay out of the city.
(soranews24.com)
Mar 26
Tokyo governor is calling on residents in the city to stay home this coming weekend unless they absolutely need to go out.
(NHK)
Mar 24
Prime Minister Shinzo Abe and International Olympic Committee President Thomas Bach agreed Tuesday to postpone this summer's Tokyo Olympics for one year due to the coronavirus pandemic, the Japanese leader said.
(NHK)
Mar 24
The head of the Tokyo Olympic organizing committee has indicated that it would consider the possibility of postponing the games as the coronavirus continues to spread around the world.
(NHK)
Mar 21
Japanese and U.S. foreign ministers on Friday agreed to closely cooperate in dealing with the coronavirus outbreak, recognizing the need to enact border controls for a certain period of time to address the global health crisis.
(Kyodo)
---