With Prime Minister Shinzo Abe expected to reshuffle his Cabinet later this month, attention is turning to who might get what posts, and from which Liberal Democratic Party factions any new ministers might be from.
Unlike most of the late 20th century, when the power struggles between rival LDP factions could make or break a prime minister, the overall power and influence of factions has waned.
But for LDP members, factions still function as a way of grouping like-minded politicians and as a source of information in the ever-complex political world of Nagatacho. And ahead of a Cabinet reshuffle and the convening of an extraordinary Diet session later in the fall, many LDP factions are planning to hold annual policy study sessions this week, which also are meant to strengthen bonds within the faction.
What are factions?
Officially, they are policy study groups made up of like-minded politicians within the party. Each faction has a policy platform members want to introduce. But in reality, they are groups that are meant to push their faction leader as LDP president, and therefore as prime minister, in its presidential election.
During the campaign, faction members frantically campaign to gather votes for their faction boss. Other work includes drafting policy platforms, persuading independent members and analyzing how many votes they have to win the election.
Faction rivalries also function as a way for members to compete with each other in terms of policies and power struggles as well as a way to train them to become seasoned politicians and ultimately seek to become prime minister.
In an article for the Australia-Japan Research Center published last August, Purnendra Jain, a professor at the University of Adelaide, and Takeshi Kobayashi, who works for a Diet member, argued that factions still matter for Abe because the members can vote in blocks and thus determine the outcome in LDP presidential elections.
In the 2018 LDP race, Abe secured a comfortable win with the support of four factions.
Feb 21
A Japanese infection control expert removed YouTube videos Thursday in which he criticized the handling of the coronavirus outbreak on the Diamond Princess cruise ship quarantined in Yokohama, saying the situation had improved.
(Japan Today)
Feb 17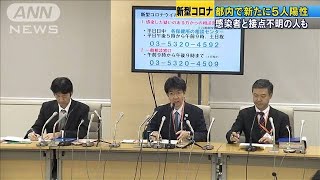 The coronavirus outbreak remains at an initial stage in Japan, an expert panel under the health ministry said Sunday, choosing not to raise the country's alert level that would have allowed for a more aggressive response.
(Nikkei)
Feb 17
The approval rate for Prime Minister Shinzo Abe's Cabinet stands at 41.0 percent, a Kyodo News survey showed Sunday, down 8.3 points from the previous poll in January and marking the sharpest fall in nearly two years amid yet another cronyism scandal.
(Kyodo)
Feb 17
The ruling Liberal Democratic Party submitted an amendment to the Diet in January to expand the "widow's deduction" covering single parents who have never been married.
(Japan Times)
Feb 14
The Japanese government has launched a 136-million-dollar package to fight the coronavirus outbreak. It includes funds for the development of a vaccine and treatment for the illness caused by the virus.
(NHK)
Feb 13
A Japanese lawmaker who has been indicted for accepting bribes in connection with a government-led integrated resort project has been released on bail.
(NHK)
Feb 13
The Japanese government plans to offer subsidies to face mask manufacturers to help them boost their production capacity.
(NHK)
Feb 10
On a chilly January afternoon in Yokohama, a 25-year-old IT company employee said what much of Japan is thinking: "I'm not expecting my salary and the economy to improve much."
(Nikkei)
Feb 09
Japan's Cabinet will approve next week emergency measures against a new coronavirus to strengthen screenings and provide financial support to the tourism industry, a source close to the matter said Saturday.
(Kyodo)
Feb 04
Japanese Prime Minister Shinzo Abe says officials have started developing test kits to detect the new coronavirus in an effort to find infections more swiftly.
(NHK)
---