Powerful typhoon Lingling is moving north near the main island of Japan's subtropical Okinawa Prefecture. It has already pummeled Miyakojima and nearby islands, leaving about 20,000 households without power.
Japan's Meteorological Agency says Lingling was over waters 180 kilometers west-northwest of Kumejima island as of 4 a.m. on Friday. Kumejima is west of the main island of Okinawa.
The typhoon is packing winds up to 162 kilometers an hour near its center.
Weather officials are warning of storm surge near Kumejima, as well as waves 9 meters high. Waves are expected to reach 8 meters near Okinawa Island.
Fifty millimeters of rain an hour is expected on the main island.
In Miyakojima City, 80 percent of homes are still affected by a blackout. Authorities lifted an evacuation advisory at around 2 a.m. as the typhoon passed.
Meanwhile, Tropical Storm Faxai is located over Pacific waters far southeast of Tokyo. It is expected to gain strength as it moves northwest toward Japan's main island of Honshu.
Faxai is expected to approach the Ogasawara Island on Saturday and Pacific coastal areas of Honshu from Sunday to Monday.
Nov 12
Six people, including four nursery school children, were injured Monday after a vehicle plowed into them at a pedestrian crossing in Hachioji, in western Tokyo, police said.
(Japan Times)
Nov 12
One month has passed since record rain brought by a strong typhoon caused extensive damage in much of Japan.
(NHK)
Nov 12
Two days after he fled in Osaka Prefecture, prosecutors on Monday caught a man indicted on drug charges who escaped while being transferred to police custody after his bail was revoked.
(Japan Times)
Nov 12
On Thursday evening, Emperor Naruhito will dress in pure white robes and be ushered into a dark wooden hall for his last major enthronement rite: spending the night with a "goddess."
(Japan Today)
Nov 12
An annual cherry blossom viewing party organized by the Japanese prime minister has come under scrutiny.
(NHK)
Nov 12
Sumo has been around in various forms for over 2,000 years.
(Japan Times)
Nov 11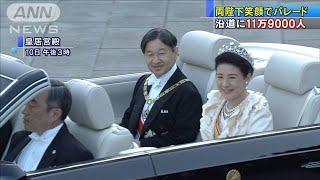 Japan's new Emperor and Empress enthralled people in Tokyo and around the nation with a lavish procession through the streets of the capital.
(NHK)
Nov 10
The suspect in a deadly arson attack in July on a Kyoto Animation Co studio has been questioned by police for the first time as he recovers from severe burns, investigative sources said Saturday.
(Japan Today)
Nov 10
Operations at Kansai International Airport were suspended for about one hour on Saturday after a drone was seen flying over the airport. It was the second such incident in three days after a drone sighting caused arrival and departures to be delayed twice on Thursday.
(Japan Today)
Nov 09
Mt Sakurajima volcano shot smoke and ash miles into the sky on Friday in its biggest eruption in more than three years, Kyodo News reported.
(Japan Today)
---