In Major League Baseball, former Seattle Mariner player Ichiro Suzuki has made his first public farewell since his retirement at the team's home stadium. The Japanese baseball superstar expressed his gratitude to his fans in English.
The Mariners held a ceremony on Saturday to present Ichiro with an award to honor his career.
After a video highlighting his greatest plays was shown on a big screen, Ichiro emerged from the bench in uniform to a standing ovation. The former outfielder now works as an instructor for the team.
He started his speech by admitting he was nervous, drawing laughs.
Ichiro then expressed his appreciation to his fans for their "touching support over the years." He noted how fans in Seattle had welcomed him, even when he left and returned, and how he was grateful for the chance to return in 2018.
He also said he was inspired by some of the greatest competitors, and now had the pleasure of spending time with young and talented players.
As he concluded his remarks, the crowd began its familiar "I-chi-ro" chant.
The 45-year-old outfielder announced his retirement on March 21 after a game against the Oakland Athletics at Tokyo Dome. In 2004, Ichiro made 262 hits -- a new record for most in-season hits in the Major Leagues. He also became the first MLB player to attain 10 consecutive 200-hit seasons.
US media say he will join the Baseball Hall of Fame when he will be eligible for the honor in 2025.
Oct 20
Long queues for replica shirts, desperate searches for tickets and TV stations showing Japan's wins on a loop: excitement is building ahead of the host nation's historic Rugby World Cup quarterfinal against South Africa.
(Japan Today)
Oct 17
The International Olympic Committee is considering moving the marathons and race walking events for the 2020 Summer Games from Tokyo to the northern island of Hokkaido amid concerns about the Japanese capital's stiflingly hot weather.
(Nikkei)
Oct 14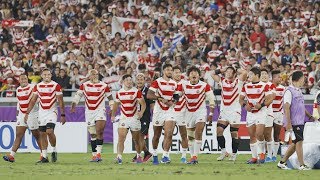 Japan captain Michael Leitch said Sunday's historic win over Scotland at the Rugby World Cup was the Brave Blossoms' way of helping the nation in the aftermath of Typhoon Hagibis and thanking those that helped put the game on.
(Kyodo)
Oct 13
In Rugby World Cup action, the final eight teams advancing to the knockout stage have been decided.
(NHK)
Oct 12
World Rugby slammed Scotland over a "disappointing" threat of legal action on Friday as tempers flared over fears their pivotal game with World Cup hosts Japan will be cancelled because of a typhoon.
(Japan Times)
Oct 11
Rugby World Cup organizers announced Thursday that two crucial pool games scheduled to take place on Saturday have been canceled to avoid the impact of a massive super typhoon set to hit the country.
(Japan Times)
Oct 11
Tennis star Naomi Osaka says she aims to play for the host country of the 2020 Tokyo Olympics by choosing Japanese nationality.
(NHK)
Oct 07
Japan's Naomi Osaka came from a set down to beat French Open champion and world No. 1 Ashleigh Barty on Sunday and win the China Open.
(Japan Times)
Oct 06
Kotaro Matsushima scored a bonus-point try deep into injury time as Japan moved to the brink of their first Rugby World Cup quarterfinal with a 38-19 Pool A victory over Samoa at the City of Toyota Stadium on Saturday.
(Japan Today)
Oct 04
The gambling laws in Japan are not the easiest to work out and understand. The big point is that no legal casinos exist in the country, although that doesn't stop other forms of gambling from existing as a stand alone service.
(newsonjapan.com)
---