Japanese births are on pace for the steepest drop in three decades, plunging even by comparison to the declines in recent years, despite earlier hopes that couples would ring in the new Imperial era with an addition to the family.
Total births fell 5.6% on the year in the January-September period to 673,800, preliminary data published Tuesday by the health ministry shows. The full-year total last dropped by more than 5% in 1989.
The figure includes foreign babies born in Japan, as well as Japanese babies born overseas.
The number of Japanese babies born in the country is expected to reach 870,000 to 880,000 this year -- about 200,000 less than a decade ago and the lowest on record since 1899. The official count fell to 918,000 last year from around 946,000 in 2017.
One big factor this year is that echo baby boomers -- those born during a major surge in births between 1971 and 1974 -- are all turning 45 or older this year, leaving fewer women of childbearing age. The high hopes Japan had for this generation for boosting the birth rate did not materialize. Japan's total fertility rate, or the average number of children by a woman in her lifetime, also fell for the third straight year to 1.42 in 2018.
New marriages in Japan almost doubled on the year in May, coinciding with Emperor Naruhito's ascension that month. But the number of marriages has decreased since, cooling speculation that births would rebound soon.
Some experts suggest that couples were holding off on having babies earlier this year, waiting for the start of the Reiwa era in May under the new emperor. But no consensus exists on exactly what triggered this year's crash.
Smaller communities are already deep in crisis. Not a single baby was born last year in the town of Hayakawa, near Mount Fuji, or in the village of Nosegawa south of Osaka. Dozens of municipalities recorded births in the single digits.
Dec 12
A recent online survey has found that 1 in 10 in Japan identify as LGBT or another sexual minority.
(Japan Times)
Dec 10
In Japan these days it seems that conservatives want to change things and progressives want to cling to the status quo. An apparently minor, but highly symbolic, example is Prime Minister Shinzo Abe's government's proposal to change the order of Japanese names when written in the Latin or Western alphabet.
(Nikkei)
Dec 09
Jikei Hospital in the city of Kumamoto, known for its "Konotori no Yurikago" (storks' cradle) baby hatch, will start a program allowing women to give birth while keeping their names secret, a senior official has said.
(Japan Times)
Dec 07
SoftBank Corp. and the University of Tokyo have agreed to open artificial-intelligence centers staffed with specialists from the university and around the world, to swiftly turn research into profitable business ventures so Japan can keep up with the U.S. and China.
(Japan Times)
Dec 07
Typical cheerleading clubs in schools, known as ōendan, consist of men clad in black gakuran stand-up collar uniforms yelling vigorously and performing synchronized, dynamic choreographed moves to support sports teams.
(Japan Times)
Dec 04
A welfare ministry panel said Tuesday that forcing children to sit extensively in the formal Japanese style known as seiza will be recognized as a morally unacceptable form of punishment under a new law that will enter into force next April.
(Japan Today)
Dec 04
Japanese students ranked at their lowest level ever in reading while remaining in the top band in science and mathematics in a triennial international survey on academic ability, the OECD said Tuesday.
(Japan Times)
Dec 03
A group of university students is calling for the elimination of sexual harassment by recruiters and other company workers during their job-hunting activities.
(Japan Times)
Dec 02
Stronger penalties for drivers using mobile phones behind the wheel took effect in Japan on Sunday in the wake of an outcry from families who lost loved ones in traffic accidents caused by such drivers.
(Japan Today)
Dec 02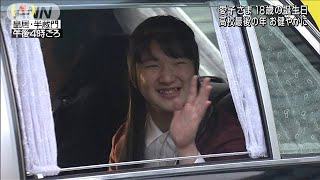 Princess Aiko, the only child of Emperor Naruhito and Empress Masako, turned 18 on Sunday, enjoying her last year in high school as she prepares to move on for further studies at university starting next spring.
(Kyodo)
---