Crowds of deer have emerged from the woods to the sound of a horn in an annual winter event in Japan's ancient capital Nara.
Deer calling has been held by local organizers every year for a few days during the summer and winter to attract tourists.
This season's event began on Sunday morning, with a member of a local deer protection group blowing the horn. About 120 deer rushed out of the woods to the sounds of Beethoven's Pastoral Symphony, and were treated to acorns.
Tourists who gathered for the event posed for pictures with the deer and fed them with special deer crackers.
An elementary school boy said he was surprised to see so many deer together. He added he was interested to learn that younger deer ate the acorns more aggressively than bigger, older ones.
The deer calling takes place every day from 10 a.m. through December 14, except for the 8th, when a marathon is being held.
Jul 09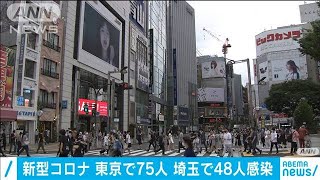 Japanese authorities reported Wednesday that 157 more people have been infected with the coronavirus.
(NHK)
Jul 09
Pounding rain that already caused deadly floods in southern Japan was moving northeast Wednesday, battering large areas of Japan's main island, swelling more rivers, triggering mudslides and destroying houses and roads. At least 58 people have died in several days of flooding.
(Japan Today)
Jul 09
Struggling businesses and other clients have left Japanese banks with record outstanding loans for a third straight month.
(NHK)
Jul 09
Carlos Ghosn, the former Nissan Motor Co chairman, wired $862,500 last year to a company managed by one of the two men who later helped him escape from Japan, U.S. prosecutors said in a Tuesday court filing.
(Japan Today)
Jul 09
Tokyo Metropolitan Police have arrested a 24-year-old woman for allegedly leaving her 3-year-old daughter alone at their residence for more than one week, resulting in her death, reports NHK (July 8).
(tokyoreporter.com)
Jul 09
About a third of parents in Japan postponed vaccinating their children during the coronavirus pandemic amid fears of catching an infection, a survey by a nonprofit organization showed Monday.
(Japan Today)
Jul 09
Tokyo Metropolitan Police have arrested three persons, including a student at Joshibi College of Art and Design, over the alleged spraying of graffiti in Shibuya Ward, reports Fuji News Network (July 8).
(tokyoreporter.com)
Jul 09
A police officer fatally shot himself in Chiyoda Ward early Wednesday in an apparent suicide, police said, reports NHK (July 8).
(tokyoreporter.com)
Jul 09
Popular rapper Kan a.k.a. Gami, who is out on bail after being accused of possessing marijuana earlier this year, has been arrested again for the same crime, police said, reports Sports Nippon (July 7).
(tokyoreporter.com)
Jul 08
In southwestern Japan, emergency crews are searching for survivors and assessing the damage after days of torrential rain.
(NHK)
---