Real estate and hotel developer Apa Group opened in Osaka on Tuesday a 32-story hotel with 913 guest rooms, making it one of the largest inns in western Japan.
The Apa Hotel & Resort Midosuji Hommachi Eki Tower has direct connections with Hommachi Station, which serves Osaka Metro Co.'s Midosuji, Chuo and Yotsubashi lines.
Apa Group expects demand from foreign visitors to grow leading up to the 2025 World Expo in the city.
Feb 18
Japan's health ministry says 99 more people on board the quarantined cruise ship Diamond Princess have tested positive for the new coronavirus.
(NHK)
Feb 18
As Japan ramps up its response to the coronavirus outbreak, one of the largest sporting events in the nation will be curtailed, with participation in the Tokyo Marathon limited to elite runners and wheelchair competitors, organizers said Monday.
(Japan Times)
Feb 18
Visitors to Kyoto have plummeted, prompting a new series of ads showing sites like the Arashiyama bamboo forest totally devoid of people.
(soranews24.com)
Feb 18
Popular boy band Arashi is calling off a concert scheduled for this spring in Beijing due to the outbreak of the COVID-19 coronavirus, their agent said.
(Japan Times)
Feb 17
Americans began leaving a quarantined cruise ship in Japan on Monday to board chartered flights home as the number of new coronavirus cases diagnosed on the vessel jumped to 355.
(Japan Times)
Feb 17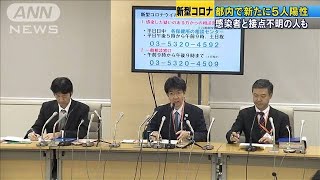 The coronavirus outbreak remains at an initial stage in Japan, an expert panel under the health ministry said Sunday, choosing not to raise the country's alert level that would have allowed for a more aggressive response.
(Nikkei)
Feb 17
As Japan grapples with the expanding new coronavirus outbreak, six more people — five in Tokyo and another in Aichi Prefecture — tested positive Sunday for the deadly virus, local authorities said.
(Japan Times)
Feb 17
Japan invented the zombie company: a once proud and innovative name that has lost its way and staggers from one crisis to another. But has Asia's second biggest economy now created the zombie privatization?
(Nikkei)
Feb 17
The number of new coronavirus infections among passengers and crew of the Diamond Princess cruise ship quarantined near Tokyo has risen by 70 to 355, the government said Sunday, while more domestic cases were also reported and experts warned the situation could worsen.
(Kyodo)
Feb 17
The approval rate for Prime Minister Shinzo Abe's Cabinet stands at 41.0 percent, a Kyodo News survey showed Sunday, down 8.3 points from the previous poll in January and marking the sharpest fall in nearly two years amid yet another cronyism scandal.
(Kyodo)
---