Japan's welfare ministry estimates that the number of births in the country for the whole of this year will fall below 900,000 for the first time. The decline would be faster than the government's earlier prediction.
The ministry annually estimates the number of births each year based on the figures from January through October.
It says there will likely be 864,000 births this year, the lowest since record keeping began in 1899.
It comes two years earlier than a forecast by the National Institute of Population and Social Security Research for births to fall below 870,000.
The estimate is 54,000 fewer than the actual number of births last year. It would be the second-largest year-on-year decline, following 1988-89, when births fell by more than 67,000.
The number of deaths for the whole of this year is forecast to reach 1,376,000, up 14,000 from last year and the highest since the end of World War Two.
The estimated births and deaths would mean a population decline of 512,000, and a 13th consecutive contraction since 2007.
The figure is up 68,000 from last year, and the first to surpass 500,000.
24日に厚生労働省が発表した推計によると、今年1年間で生まれた赤ちゃんの人数は、過去最少となる86万4000人だった。90万人を下回ったのは初めて。減少の原因について、厚労省は「改元を待って結婚したため、出産のタイミングが遅れた可能性がある」との見方を示している。
Jan 23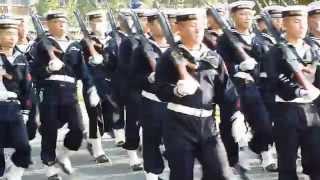 The first female student was admitted to Japan's national naval submarine academy Wednesday after the end of a ban on women on the country's submarines.
(Japan Times)
Jan 23
Japan's oldest university continues to produce the best and the worst that the country has to offer.
(soranews24.com)
Jan 22
The Japanese government has decided it will not to give subsidies this fiscal year ending March to a university where a large number of foreign students have gone missing.
(NHK)
Jan 21
Online streaming has been very good for the anime industry, opening flows of revenue both domestic and international by delivering the product to ravenous fans in the fastest manner possible. For a while, though, it looked like Studio Ghibli was going to stick to its "physical media-only" policy until the end of time.
(soranews24.com)
Jan 18
An international group of geologists on Friday formally adopted "Chibanian" as the name of a geologic age spanning 770,000 to 126,000 years ago, researchers said, marking the first time a Japanese name has been chosen.
(Japan Times)
Jan 18
With Japanese society often placing intense pressure on teens and adults alike, as well as traditional values that can frame self-sacrifice as an admirable way of taking responsibility, a high suicide rate has long been a dark mark on the nation's culture.
(soranews24.com)
Jan 15
The communications ministry on Tuesday authorized Japanese public broadcaster NHK to start simultaneous online streaming of its television programs from April.
(Japan Today)
Jan 14
Aichi Prefectural Police last week arrested a student at Meijo University in Nagoya over the alleged stabbing of a teacher, reports NHK (Jan. 10).
(tokyoreporter.com)
Jan 13
Young men and women in northeastern Japan have talked about their hopes for rebuilding towns that were devastated by the 2011 earthquake and tsunami.
(NHK)
Jan 13
At first glance, things seem to be getting better for Japanese women.
(Japan Times)
---