Japan's Meteorological Agency has declared the start of cherry blossom season in Tokyo.
Agency officials confirmed on Saturday afternoon that at least five blossoms had opened on the benchmark tree of the Somei-yoshino variety at Yasukuni Shrine in central Tokyo.
The declaration came 12 days earlier than average. It was the earliest since statistics began to be kept in 1953.
But temperatures plunged in Tokyo on Saturday, in contrast to the warm weather until the previous day. A low pressure system and a cold front brought intermittent sleet, with the temperature as of 2 p.m. at 2.5 degrees Celsius.
A commercial weather-information firm says cherry trees will likely start blooming earlier than usual in many parts of western and eastern Japan through next week.
東京のサクラが全国トップで開花となりました。  気象庁は14日午後2時ごろ、靖国神社にあるソメイヨシノの標本木が数輪咲いているとして、冷たい雨が降るなか、東京のサクラの開花を発表しました。去年より7日早く、平年より12日早いサクラシーズンの到来です。統計が残る1953年以降、最も早い開花となり、東京が全国トップで咲くのは3年ぶりです。この週末は寒の戻りがありますが、来週後半は再び暖かくなって1週間から10日ほどで見頃を迎えそうです。
Jul 15
Japan is planning to start letting foreign residents who left the country before April 3 back in, starting in August.
(Nikkei)
Jul 15
People in Tokyo are watching with wary eyes as the latest daily case numbers hover in the mid-100s after topping 200 four days in a row through Sunday.
(NHK)
Jul 15
Torrential rain has devastated parts of Japan. In the western region of Chugoku, thousands of people have been ordered to evacuate after a major river burst its banks. Officials are having a tough time helping the survivors while maintaining anti-COVID measures.
(NHK)
Jul 15
A panel under the justice minister proposed Tuesday establishing criminal penalties for foreign nationals who do not comply with deportation orders as Japan seeks to curb long-term detention of foreigners at immigration facilities.
(Japan Times)
Jul 15
Japan's government is considering whether to request business closures for nightlife establishments that fail to follow its guidelines to prevent the spread of the coronavirus.
(NHK)
Jul 15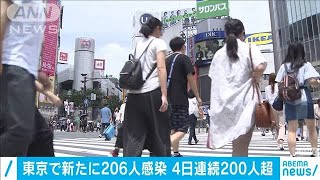 An advisory panel of experts to Japan's health ministry warns that coronavirus infections are continuing to spread throughout the country.
(NHK)
Jul 14
Japanese Prime Minister Abe Shinzo says the government will compile a financial package of more than 3.7 billion dollars to help regions in the southwest and elsewhere left battered by record rainfall.
(NHK)
Jul 14
A fireball that brightened the Tokyo sky earlier this month has been identified as a meteor after fragments were found in a neighboring prefecture, a national science museum said Monday.
(Japan Times)
Jul 14
Heavy rains in the northern part of Japan's Kyushu island are threatening the territory with landslides and flooding.
(NHK)
Jul 13
The new coronavirus infection count has been rising across the nation with more than 200 cases reported in Tokyo on Sunday.
(NHK)
---