Some time before the coronavirus outbreak put a damper on this year's hanami (blossom viewing) parties and other social activities, the media had already noted that the decline in alcohol consumption by younger Japanese has been accelerating. This phenomenon even made the front page of the Nikkei Marketing Journal (Feb. 21).
Citing data from Suntory Holdings in 2019, the article also noted that the market for nonalcohol and low-alcohol beverages such as beer and The Kyoto-based distiller concluded that more people are drinking nonalcoholic beverages not merely as a substitute for alcohol — as would be the case among drivers or expectant mothers — but because they prefer it.
The company noticed that young, salaried male workers, who make up a key segment of its customer base, had begun leaving their jobs at an earlier hour, which, in turn, led to a lower demand for alcoholic beverages accompanying their meals.
So what's the story? Are Japanese people on their way to becoming a nation of Actually the trend to imbibe less appears to be a worldwide phenomenon. Data from Health Survey for England, for example, shows that there is a strict generational pattern to regular drinking, in that every generation has drunk less regularly than the one that preceded it.
This topic was scrutinized in depth in "Ipsos Mori Thinks Millennial Myths and Realities," a 2017 study of consumers in 27 countries in North America, Europe, Asia and Oceania conducted by the Paris-based Ipsos research organization. It concluded that "millennials are shunning alcohol at unprecedented levels," which it qualified as "mostly, but not on all measures or in all countries."
"Explanations for this range from being more health conscious or being too poor to spend money in the pub to being just plain 'boring,'" the report noted.
In a separate 2017 study by Ipsos titled "Global Views on Vices," respondents were asked to agree or disagree with how things will be 10 years hence. Japanese participants who agreed with the statement, "The variety of beer, wine and liquor available to consumers will be greater than today" were ranked lowest of all major markets, at just 27 percent.
What's more, Japanese also ranked lowest, at 10 percent, in agreeing that "Consumption of beer, wine and liquor will be higher than today," putting them a full 19 points below second-lowest Germany, at 29 percent. The average in all surveyed countries was 47 percent.
Jul 15
Japan is planning to start letting foreign residents who left the country before April 3 back in, starting in August.
(Nikkei)
Jul 15
People in Tokyo are watching with wary eyes as the latest daily case numbers hover in the mid-100s after topping 200 four days in a row through Sunday.
(NHK)
Jul 15
Torrential rain has devastated parts of Japan. In the western region of Chugoku, thousands of people have been ordered to evacuate after a major river burst its banks. Officials are having a tough time helping the survivors while maintaining anti-COVID measures.
(NHK)
Jul 15
A panel under the justice minister proposed Tuesday establishing criminal penalties for foreign nationals who do not comply with deportation orders as Japan seeks to curb long-term detention of foreigners at immigration facilities.
(Japan Times)
Jul 15
Japan's government is considering whether to request business closures for nightlife establishments that fail to follow its guidelines to prevent the spread of the coronavirus.
(NHK)
Jul 15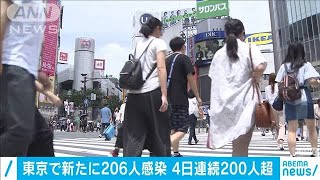 An advisory panel of experts to Japan's health ministry warns that coronavirus infections are continuing to spread throughout the country.
(NHK)
Jul 14
Japanese Prime Minister Abe Shinzo says the government will compile a financial package of more than 3.7 billion dollars to help regions in the southwest and elsewhere left battered by record rainfall.
(NHK)
Jul 14
A fireball that brightened the Tokyo sky earlier this month has been identified as a meteor after fragments were found in a neighboring prefecture, a national science museum said Monday.
(Japan Times)
Jul 14
Heavy rains in the northern part of Japan's Kyushu island are threatening the territory with landslides and flooding.
(NHK)
Jul 13
The new coronavirus infection count has been rising across the nation with more than 200 cases reported in Tokyo on Sunday.
(NHK)
---