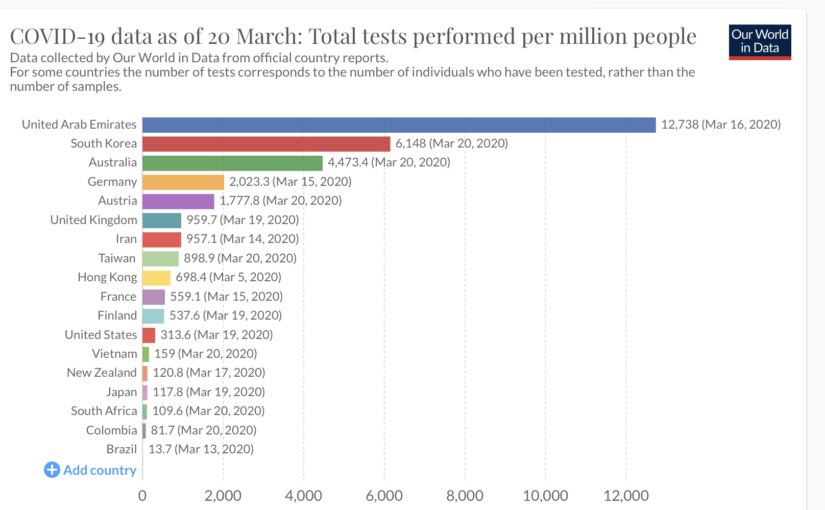 Germany has decided that saving lives is more important than saving face. In a rather undiplomatic letter to German citizens in Japan posted on the Embassy Of Germany's web site on March 24, the embassy did not mince words in discussing Japan's poor handling of coronavirus testing. It warns that we should assume there are a high number of unreported carriers.
While noting that there is a possibility that German citizens might be entirely banned from entering Japan, the letter urges German citizens to exercise caution in coming to the country or staying. It notes that "For Germans and other EU citizens, visa-free travel to Japan is suspended until the end of April . New applications are possible, but the granting of visas is restricted."
The most interesting passage is below. The brevity and beauty of the German language makes it a wonderfully chilling dense read.
"Das Infektionsrisiko in Japan ist nicht seriös einzuschätzen. Von einer hohen Dunkelziffer von Infektionen, bedingt durch die geringe Zahl durchgeführter Tests, ist auszugehen. COVID-19 Testmöglichkeiten gibt es weiterhin nur für bereits schwer erkrankte Personen (Symptome und 4 Tage hohes Fieber) und für Personen mit anderweitigem Anfangsverdacht (Kontakt zu Infizierten, Aufenthalte in Risikogebieten)"
It could be translated several ways. Please feel free to submit your own translation!
Here is one translation by a German scholar.
"The [stated] risk of infection [from coronavirus] in Japan cannot be believed. A high number of non-reported cases can be expected, due to the low rate of testing. The possibility of being tested for the coronavirus continue only to be available for those who are very sick (four days of high fever) and for persons with other risk factors (contact to others infected, [those who have stayed] stay in high-risk areas."
You could also translate the first sentences as:
"The risk of infection in Japan cannot be assessed seriously. It can be assumed that there are high number of unreported infections due to the small number of tests carried out."
Let us further translate the full two paragraphs above from diplomatic understatement to colloquial English.
"Japan is lying. No one can fucking believe what they're saying, because how can they know if they don't test? They are barely testing. They only test you if you meet super-stringent criteria. We're going to see a surge in the numbers if they ever get off their asses and actually test people for the disease. Assume (auszugehen) there a lot of coronavirus carriers out there in Japan."
My Social Studies teachers used to say, "You should never 'assume' because it makes an 'ass' out of 'u' and 'me'", but in this case we are all assuming the German Embassy in Tokyo is correct. As of March 2nd, Japan averaged 72 tests for coronavirus per million. Korea averaged 4099.
Things have slightly improved, as of March 20th, Japan had moved up to 117.8 corona virus tests per million people. Have a look at the chart—it's an abysmal figure. You might mistake it for a visual representation of Japan's gender equality ranking, which ranks at an all-time low of 121 out of 153 companies. In a positive sense, if sexual discrimination was something to be proud of, Japan would be in the top tier.
Japan ranks miserably in testing for the coronavirus, 118 people per million. In fact, it's ranking for testing is so low, it resembles the nation's ranking on gender equality, 121 out of 153 nations. In cover-ups and sexism, Japan leads the pack.
Everybody knows in Japan there's no visible coronavirus epidemic because Japan generally doesn't test people for it. It's an obstacle course designed to prevent you from reaching the goal line of getting tested and possibly embarrassing the nation by making infection rates higher.
Jul 10
The number of new daily coronavirus infections in Tokyo hit a single-day record of 224 on Thursday, the metropolitan government said.
(Japan Today)
Jul 10
Officials of Tokyo's Shinjuku Ward say they will offer 100,000 yen, or about 930 dollars, to residents infected with the coronavirus.
(NHK)
Jul 10
A 24-year-old woman in custody after she caused the death of her 3-year-old daughter by leaving her alone at their residence for more than one week barricaded her inside with furniture, police have revealed, reports Fuji News Network (July 9).
(tokyoreporter.com)
Jul 10
Japan will tighten its criteria for supporting exports of coal-fired power plants amid criticism that the practice goes against global efforts to curb global warming.
(Japan Times)
Jul 10
The tourism industry in Japan came to a screeching halt earlier this year with the beginning of the coronavirus pandemic, as pretty much the whole country stayed home for both cherry blossom season and the Golden Week vacation period, two of the spring's busiest travel periods.
(soranews24.com)
Jul 10
The Tokyo Olympic and Paralympic organizing committee will issue ticket refunds to people unable to attend the games due to their one-year postponement, sources close to the matter said Thursday.
(Japan Times)
Jul 09
Pounding rain that already caused deadly floods in southern Japan was moving northeast Wednesday, battering large areas of Japan's main island, swelling more rivers, triggering mudslides and destroying houses and roads. At least 58 people have died in several days of flooding.
(Japan Today)
Jul 09
Struggling businesses and other clients have left Japanese banks with record outstanding loans for a third straight month.
(NHK)
Jul 09
Carlos Ghosn, the former Nissan Motor Co chairman, wired $862,500 last year to a company managed by one of the two men who later helped him escape from Japan, U.S. prosecutors said in a Tuesday court filing.
(Japan Today)
Jul 08
In a move that will affect Japanese studying in the U.S., the government there said Monday that international students attending American universities will have to depart the country or transition to another college if their classes are moved entirely online for the fall semester amid the coronavirus pandemic.
(Japan Times)
---