Japan's ruling parties finalized on Friday a plan to cover part of the monthly rent of small and midsize businesses struggling under the economic impact of the new coronavirus.
Under the proposal submitted to Prime Minister Shinzo Abe, the government will shoulder two-thirds of rent for up to six months if small businesses, irrespective of sector, experience revenue drops.
The maximum cap for relief will be set at 500,000 yen a month and 250,000 yen for the self-employed. The ruling coalition hopes the program, estimated to cost nearly 2 trillion yen, will start in June.
Smaller businesses that are eligible to receive rent relief need to have logged either a revenue fall of over 50 percent from a year ago or of over 30 percent within the past three months.
"Based on the proposal, the government will make all-out efforts to take measures as speed is of essence," Abe said as he received the proposal from senior lawmakers from the Liberal Democratic Party and coalition partner Komeito.
To finance the measure, the government and the ruling coalition are considering drawing up another extra budget for the current fiscal year that began in April, sources close to the matter said, with an eye to its enactment before the current Diet session ends on June 17.
Finance Minister Taro Aso hinted before the ruling party plan was submitted Friday that the compilation of another supplementary budget would not come until at least June.
"We need to implement the first extra budget and see how the situation unfolds in April and May," Aso told reporters.
After facing criticism for his handling of the coronavirus crisis, Abe has been stepping up state spending to extend support to households and companies. A 100,000 yen ($930) cash handout for all residents of Japan is part of relief measures that the government has already decided to roll out.
Last week, parliament enacted a 25.69 trillion yen extra budget for fiscal 2020 after the government, in a rare move, reworked its original budget to reflect Abe's decision, at the urging of Komeito, not to limit the recipients of cash handouts.
総務省が発表した家計調査では、全国の2人以上の世帯における3月の消費支出は、前の年の同じ月に比べて、実質6.0%の減少と大幅に下落しました。特に外出の自粛などで、飲食代や交通費、宿泊費などで大きく下落し、遊園地の入場料や乗り物代はマイナス86.8%と大幅に落ち込みました。一方で、体温計などの医療用品、マスクやガーゼの購入費、ネット接続料などへの支出は増加しました。 苦しい状況にある事業者への支援が急がれるなか、自民党と公明党は8日に家賃支援策をまとめ、政府に実現を求めました。対象は去年の同じ月より収入が半減した事業者で、支払われるのは家賃の3分の2。期間は半年間で、上限は中小企業が月50万円、個人事業主は25万円となっています。また、3カ月で3割減った事業者なども対象になるよう求めていくとしています。 この金額について、渋谷と吉祥寺でミニシアターを運営する映画会社『アップリンク』の浅井隆代表は「映画館ってある程度、駅に近くて、面積も小さな飲食店やカフェよりも広い。50万円では、とてもじゃないけど足りない。会社って規模に差があると思うので、会社の売り上げや家賃に即した補償を考えてもらいたい。映画は文化の発信ではあるけど、文化も経済を回している一員だと僕は思っている」と話します。アップリンクは4月から休業し、月5000万円あった売り上げはゼロとなっていますが、劇場2カ所の家賃は月500万円かかっています。 東京・青山にある居酒屋『青一とどろき』は家賃が約50万円かかっていますが、個人事業主の上限は25万円です。  『青一とどろき』轟光店長:「平等感はあまりないとは思う。(家賃が)安い店が得するように見える。特に青山なんて、みんな会社を閉めちゃって人がいない。弁当をやったところで、たかだか知れてる」「(Q.この状態が続くと)つぶれるんだろうね。今だって身を削って金を払ってるようなものだから。削れる身ってたかだか知れてるよね」 東京商工リサーチが行った「家賃負担がどれだけ業績に与えているか」というアンケート調査では、中小企業の4分の1は、売上高に占める家賃の割合が2割超えていて、東京商工リサーチ情報部の原田三寛部長は「家賃の負担感の軽減というのが非常に重要になっている」と指摘します。 "家賃補助"に加え、事業者が早急に求めているのが、雇用調整助成金です。これは、雇用を維持しながら、従業員に休業手当を支払う企業に対して、国が一部を負担する制度。1人一日8330円が上限ですが、少なすぎるとの批判があります。自民党の岸田政調会長は7日、1万4000円から1万5000円ぐらいまで引き上げるべきだという考えを示し、今後、与党で財源などについて協議する方針です。また、この助成金は申請手続きが複雑で、不満が高まっていることから、政府は、休業中でも失業したとみなし、失業手当を支給する検討を始めました。失業手当は、従業員の申請で手続きが済み、より早く手元に現金が届くということです。 東京商工リサーチによりますと、全国の倒産件数は3月末の時点で25件でしたが、今月8日の時点では全国で128件と急増しています。東京商工リサーチ情報部の原田三寛部長によりますと、5月はゴールデンウイークに外出自粛があったため、ゴールデンウイーク商戦が消失してしまいました。そのため、5月末には倒産件数が300件に及ぶ恐れがあるといいます。また、東京商工リサーチは、先行きが見えず、経営者が自主的に事業を停止する『休廃業』に注目しています。  東京商工リサーチ情報部の原田三寛部長:「2019年に倒産した会社は年間8383件だったのに対し、『休廃業』は4万3000件と、倒産件数の約5倍以上ありました。
Jul 09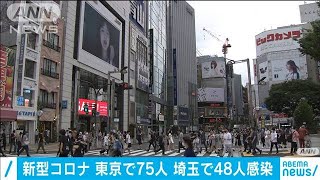 Japanese authorities reported Wednesday that 157 more people have been infected with the coronavirus.
(NHK)
Jul 09
Pounding rain that already caused deadly floods in southern Japan was moving northeast Wednesday, battering large areas of Japan's main island, swelling more rivers, triggering mudslides and destroying houses and roads. At least 58 people have died in several days of flooding.
(Japan Today)
Jul 09
Struggling businesses and other clients have left Japanese banks with record outstanding loans for a third straight month.
(NHK)
Jul 09
Carlos Ghosn, the former Nissan Motor Co chairman, wired $862,500 last year to a company managed by one of the two men who later helped him escape from Japan, U.S. prosecutors said in a Tuesday court filing.
(Japan Today)
Jul 08
In a move that will affect Japanese studying in the U.S., the government there said Monday that international students attending American universities will have to depart the country or transition to another college if their classes are moved entirely online for the fall semester amid the coronavirus pandemic.
(Japan Times)
Jul 08
Japan's labor ministry says over 32,000 workers have been discharged by their employers or faced contract nonrenewal amid the coronavirus pandemic.
(NHK)
Jul 07
Japan will relax its coronavirus-induced rules on holding big events from Friday as planned, boosting the maximum number of people allowed at an indoor venue to 5,000, a minister said Monday.
(Kyodo)
Jul 07
Infectious disease experts are feeling a sense of distrust with Prime Minister Shinzo Abe's response to the COVID-19 epidemic, amid signs that the disease is beginning to spread again.
(Japan Times)
Jul 07
The head of the Fukui Prefectural Police in central Japan received a traffic ticket for making an illegal right turn while off duty in May, the police said Monday.
(Kyodo)
Jul 06
Tokyo Governor Koike Yuriko has won a second term after Sunday's voting. Koike laid out what she wants to accomplish over the coming years. She said her most urgent priority is fighting the coronavirus.
(NHK)
---