Japan's tourism industry has been hit hard by the coronavirus pandemic. As people adjust to a new normal in daily life, tourism officials are also trying to come up with a new normal for vacations.
Achi village in Nagano Prefecture, central Japan, is famous for its hot springs and as a prime spot for star-gazing.
Surrounded by the mountains of the Southern Alps, the village is protected from urban light pollution.
But coronavirus prevention measures have kept many visitors from the Tokyo metropolitan area away.
Now, village officials have decided to attract people living more locally.
They are offering residents of Nagano Prefecture a discount of nearly 50 dollars per night.
One visitor from nearby said she wanted to contribute to the local tourism industry. "I think it's a good chance to experience the village's appeal."
"Attracting local residents also has an advantage in terms of containing the coronavirus," said Japan Research Institute researcher Kousaka Akiko. "Even if a group infection occurs, it will be easier to track the route as many of them live in the prefecture."
Meanwhile, overseas tours are almost impossible due to the travel restrictions in many countries. So instead, major Japanese travel agency H.I.S. has come up with the idea of offering virtual tours.
Customers select their destinations and local guides talk them through the sights online.
The tours are either free or cost up to about 10 dollars. H.I.S. officials say more than 4,000 people joined its online tours in the past month.
"Some customers say they feel like they are actually there, or they really want to visit the place," said H.I.S. official Uemura Tomoko. "We will study how to make our products as safe as possible and prepare for the full resumption of overseas travel."
Company officials say they want to make online tour packages major product lines for this summer.
Jul 09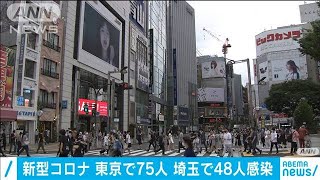 Japanese authorities reported Wednesday that 157 more people have been infected with the coronavirus.
(NHK)
Jul 09
Pounding rain that already caused deadly floods in southern Japan was moving northeast Wednesday, battering large areas of Japan's main island, swelling more rivers, triggering mudslides and destroying houses and roads. At least 58 people have died in several days of flooding.
(Japan Today)
Jul 09
Struggling businesses and other clients have left Japanese banks with record outstanding loans for a third straight month.
(NHK)
Jul 09
Carlos Ghosn, the former Nissan Motor Co chairman, wired $862,500 last year to a company managed by one of the two men who later helped him escape from Japan, U.S. prosecutors said in a Tuesday court filing.
(Japan Today)
Jul 09
Tokyo Metropolitan Police have arrested a 24-year-old woman for allegedly leaving her 3-year-old daughter alone at their residence for more than one week, resulting in her death, reports NHK (July 8).
(tokyoreporter.com)
Jul 09
About a third of parents in Japan postponed vaccinating their children during the coronavirus pandemic amid fears of catching an infection, a survey by a nonprofit organization showed Monday.
(Japan Today)
Jul 09
Tokyo Metropolitan Police have arrested three persons, including a student at Joshibi College of Art and Design, over the alleged spraying of graffiti in Shibuya Ward, reports Fuji News Network (July 8).
(tokyoreporter.com)
Jul 09
A police officer fatally shot himself in Chiyoda Ward early Wednesday in an apparent suicide, police said, reports NHK (July 8).
(tokyoreporter.com)
Jul 09
Popular rapper Kan a.k.a. Gami, who is out on bail after being accused of possessing marijuana earlier this year, has been arrested again for the same crime, police said, reports Sports Nippon (July 7).
(tokyoreporter.com)
Jul 08
In southwestern Japan, emergency crews are searching for survivors and assessing the damage after days of torrential rain.
(NHK)
---