The Summer Games hosted by Japan will not be "done with grand splendor," organizers said Wednesday night, setting up an Olympics next year that will fall short of Prime Minister Shinzo Abe's original hope of holding them "in their full form."
About 200 proposals to simplify the games are being considered, Thomas Bach, president of the International Olympic Committee, told reporters after an executive board meeting Wednesday.
The question of attendance by spectators, whose absence would be a loss to Japan's economy, remains up in the air.
"We have already seen great progress even in the short time since the last executive board meeting," Bach said, adding that reducing the complexity of the games would in turn reduce postponement costs.
In a press briefing in Japan, Tokyo 2020 CEO Toshiro Muto outlined three principles for the postponed games, the first of which is ensuring the health and safety of athletes and spectators.
Organizers are looking at reconfiguring athlete locker rooms in line with coronavirus distancing measures, and prohibiting visitors from entering the athletes' village.
The 2020 Summer Olympics were supposed to start at the end of July, but will go down in history as the first peacetime games to be postponed due to a pandemic.
Abe announced a yearlong postponement in March when the coronavirus pandemic showed no signs of abating before the summer. The postponement is expected to place an additional financial burden on Japan, which has spent an estimated $12 billion to prepare for the games.
Jul 13
The new coronavirus infection count has been rising across the nation with more than 200 cases reported in Tokyo on Sunday.
(NHK)
Jul 13
More heavy rain is expected in eastern and western Japan through Tuesday. Meteorological Agency officials say people should remain on alert for landslides and flooding.
(NHK)
Jul 13
A national facility devoted to the indigenous Ainu people and their culture opens on Sunday in their ancestral region of Hokkaido in northern Japan.
(NHK)
Jul 12
Two U.S. Marine bases in Okinawa have been put on lockdown by the military with 61 coronavirus cases confirmed this week, the prefectural government said Saturday.
(Kyodo)
Jul 12
Scientists have been studying the coronavirus around the clock since it first emerged, but much about the virus still remains a mystery. Recently, reports have emerged of former patients suffering symptoms such as fever and shortness of breath long after testing negative. Doctors and researchers are now studying these lingering effects.
(NHK)
Jul 12
With the midsummer heat still not quite here, Tokyo Disneyland and Disney Sea call off Christmas and all other seasonal celebrations.
(soranews24.com)
Jul 12
NHK has learned that the Japanese government plans to allow foreign nationals with certain residency statuses, including students and technical trainees, to re-enter the country despite a ban imposed due to the coronavirus pandemic.
(NHK)
Jul 11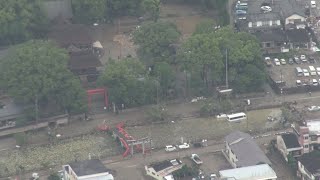 People in many parts of Japan are preparing for a wet and possibly dangerous weekend as weather officials warn of more heavy rain. The extreme weather has left more than 60 people dead and over a dozen missing over the past week.
(NHK)
Jul 11
Officials in Tokyo are dealing with a jump in coronavirus infections. The number of new cases has now topped 200 for two days in a row. It's the first time that's happened since the start of the pandemic.
(NHK)
Jul 11
Japan will begin a subsidy campaign on July 22 to boost domestic tourism hit by the coronavirus, the tourism minister said, although concerns remain over a resurgence of infections.
(Japan Today)
---