A man who was confirmed with rabies, the first case in Japan in 14 years, has died of the disease.
Health officials in the city of Toyohashi, Aichi Prefecture, say the man in his 30s experienced symptoms of the virus such as ankle pain, stomachache and vomiting when he visited a medical institution in the city last month.
The infection was confirmed by the National Institute of Infectious Diseases after it conducted a tissue analysis. He had been hospitalized in Toyohashi.
City officials say the man, who was a foreign national, came to Japan from the Philippines in February.
Authorities say he is likely to have contracted the disease in the Philippines because his family says he was bitten on the ankle by a dog around September last year.
Japan's health ministry says rabies is transmitted by bites from dogs or cats infected with the virus and is not usually passed between people.
Rabies can be prevented if people are vaccinated right after they are infected. But the disease is almost 100 percent fatal once symptoms appear, as there is no effective treatment.
Jul 13
The new coronavirus infection count has been rising across the nation with more than 200 cases reported in Tokyo on Sunday.
(NHK)
Jul 13
More heavy rain is expected in eastern and western Japan through Tuesday. Meteorological Agency officials say people should remain on alert for landslides and flooding.
(NHK)
Jul 13
A national facility devoted to the indigenous Ainu people and their culture opens on Sunday in their ancestral region of Hokkaido in northern Japan.
(NHK)
Jul 12
Two U.S. Marine bases in Okinawa have been put on lockdown by the military with 61 coronavirus cases confirmed this week, the prefectural government said Saturday.
(Kyodo)
Jul 12
Scientists have been studying the coronavirus around the clock since it first emerged, but much about the virus still remains a mystery. Recently, reports have emerged of former patients suffering symptoms such as fever and shortness of breath long after testing negative. Doctors and researchers are now studying these lingering effects.
(NHK)
Jul 12
With the midsummer heat still not quite here, Tokyo Disneyland and Disney Sea call off Christmas and all other seasonal celebrations.
(soranews24.com)
Jul 12
NHK has learned that the Japanese government plans to allow foreign nationals with certain residency statuses, including students and technical trainees, to re-enter the country despite a ban imposed due to the coronavirus pandemic.
(NHK)
Jul 11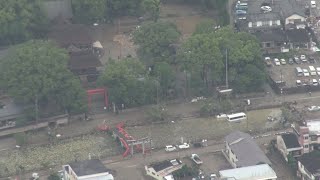 People in many parts of Japan are preparing for a wet and possibly dangerous weekend as weather officials warn of more heavy rain. The extreme weather has left more than 60 people dead and over a dozen missing over the past week.
(NHK)
Jul 11
Officials in Tokyo are dealing with a jump in coronavirus infections. The number of new cases has now topped 200 for two days in a row. It's the first time that's happened since the start of the pandemic.
(NHK)
Jul 11
Japan will begin a subsidy campaign on July 22 to boost domestic tourism hit by the coronavirus, the tourism minister said, although concerns remain over a resurgence of infections.
(Japan Today)
---