South Korea has reopened a complaint with the World Trade Organization over Japan's tightened export controls on three high-tech materials.
Officials of South Korea's Ministry of Trade, Industry and Energy revealed the reopening to NHK on Thursday.
Last July, Japan tightened export controls, citing security concerns and lax trade controls on the part of Seoul.
South Korea took the dispute to the WTO in September, but suspended the procedure in November in the hope for a settlement through negotiations with Tokyo.
Seoul also put on hold its decision to terminate the General Security of Military Information Agreement, or GSOMIA.
But discontent has increased within President Moon Jae-in's administration over the lack of progress being made in the last six months.
On June 2, the South Korean trade ministry said it would bring the matter to the WTO again, citing Japan's failure to show willingness to resolve the dispute by the end of May.
韓国政府は、日本の半導体材料の輸出規制が不当だとして、WTO=世界貿易機関での提訴手続きを再開しました。韓国政府は去年9月、措置の撤回を求めてWTOに提訴したものの、いったん手続きを中断していました。しかし、18日、WTOと日本に対して、裁判での一審にあたる紛争処理小委員会の設置要請書を送付しました。ただ、WTOは、最終審にあたる上級委員会の欠員によって機能停止状態になっていて、結論が出るまで時間が掛かる見通しです。
Jul 13
The new coronavirus infection count has been rising across the nation with more than 200 cases reported in Tokyo on Sunday.
(NHK)
Jul 13
More heavy rain is expected in eastern and western Japan through Tuesday. Meteorological Agency officials say people should remain on alert for landslides and flooding.
(NHK)
Jul 13
A national facility devoted to the indigenous Ainu people and their culture opens on Sunday in their ancestral region of Hokkaido in northern Japan.
(NHK)
Jul 12
Two U.S. Marine bases in Okinawa have been put on lockdown by the military with 61 coronavirus cases confirmed this week, the prefectural government said Saturday.
(Kyodo)
Jul 12
Scientists have been studying the coronavirus around the clock since it first emerged, but much about the virus still remains a mystery. Recently, reports have emerged of former patients suffering symptoms such as fever and shortness of breath long after testing negative. Doctors and researchers are now studying these lingering effects.
(NHK)
Jul 12
With the midsummer heat still not quite here, Tokyo Disneyland and Disney Sea call off Christmas and all other seasonal celebrations.
(soranews24.com)
Jul 12
NHK has learned that the Japanese government plans to allow foreign nationals with certain residency statuses, including students and technical trainees, to re-enter the country despite a ban imposed due to the coronavirus pandemic.
(NHK)
Jul 11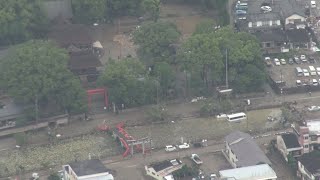 People in many parts of Japan are preparing for a wet and possibly dangerous weekend as weather officials warn of more heavy rain. The extreme weather has left more than 60 people dead and over a dozen missing over the past week.
(NHK)
Jul 11
Officials in Tokyo are dealing with a jump in coronavirus infections. The number of new cases has now topped 200 for two days in a row. It's the first time that's happened since the start of the pandemic.
(NHK)
Jul 11
Japan will begin a subsidy campaign on July 22 to boost domestic tourism hit by the coronavirus, the tourism minister said, although concerns remain over a resurgence of infections.
(Japan Today)
---