Japan's after-work drinking scene has been disrupted by the novel coronavirus pandemic, forcing its often jam-packed izakaya dining bars to reinvent themselves to survive.
For decades, izakaya — a mainstay of late-night drinking and the nation's working culture — have thrived by offering cheap drinks to thirsty office workers in cozy settings.
Even though lockdown measures to contain the virus were lifted in late May, izakaya are facing an existential crisis as more people work from home and social-distancing rules force most eating and drinking outlets to halve their seating.
The government hasn't given a time frame for how long the restrictions will last. But officials warn they must stay in place until an effective vaccine is developed. That may prod more companies to allow employees to work from home and reduce opportunities for drinking outings with far-flung colleagues.
Restaurants make up 16 percent of coronavirus-related bankruptcies in the nation so far, according to data from think tank Tokyo Shoko Research.
The gloom could put a dent in consumption for months if not years, and prolong Japan's already deepening recession.
Jul 13
Heavy rain has toppled an ancient cedar tree at a shrine in Gifu Prefecture, central Japan.
(NHK)
Jul 13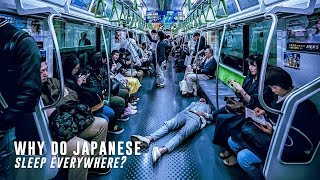 Japanese in their 20s and early 30s are going to bed earlier and sleeping about eight hours a day, 40 to 50 minutes longer than the same demographic did 10 years ago, according to a recent survey.
(Japan Times)
Jul 13
On July 4th, a rescue team carried out a helicopter operation to save a woman and a cat stranded in the floodwaters in Japan's Hitoyoshi.
(RT)
Jul 12
Residents are returning to their homes in Kuma village, in the Kumamoto prefecture of Japan, one of the regions worst hit by the recent torrential rain, to start the process of cleaning and searching for their belongings.
(RT)
Jul 11
Absolutely no tools, tape, or glue required for construction.
(soranews24.com)
Jul 10
A 24-year-old woman in custody after she caused the death of her 3-year-old daughter by leaving her alone at their residence for more than one week barricaded her inside with furniture, police have revealed, reports Fuji News Network (July 9).
(tokyoreporter.com)
Jul 09
Tokyo Metropolitan Police have arrested three persons, including a student at Joshibi College of Art and Design, over the alleged spraying of graffiti in Shibuya Ward, reports Fuji News Network (July 8).
(tokyoreporter.com)
Jul 09
A police officer fatally shot himself in Chiyoda Ward early Wednesday in an apparent suicide, police said, reports NHK (July 8).
(tokyoreporter.com)
Jul 09
Popular rapper Kan a.k.a. Gami, who is out on bail after being accused of possessing marijuana earlier this year, has been arrested again for the same crime, police said, reports Sports Nippon (July 7).
(tokyoreporter.com)
Jul 09
There is simply no denying that Japan has always been a technological leader.
(newsonjapan.com)
---