A long-time plan to develop Tokyo as a major international financial center is getting a new twist -- prompting skeptics to reassess their views.
The idea, led by the Tokyo Metropolitan Government, is rarely taken seriously as it has repeatedly failed to take shape since the collapse of Japan's asset-inflated bubble economy three decades ago. But prevailing winds have suddenly turned favorable because of political turmoil in Hong Kong that is threatening its position as a giant of global finance.
"We may need a new stronghold because anti-government demonstrations and other developments are causing problems in life" in Hong Kong, said the regional head at a major American hedge fund managing more than 1 trillion yen ($9.33 billion) in assets around the world with its Asian operation based in the city.
China's imposition on Tuesday of a national security law on Hong Kong and the possibility it could signal the effective collapse of the "one country, two systems" administrative structure in place since 1997 has highlighted the increasing risk of continuing asset management from the city.
"If my child participates in a demonstration and is arrested by police, he will be tried in mainland China," the regional hedge fund chief said in reference to the law. "If the freedom of speech and communication is restricted, we will be in no position to continue investment operations."
According to the Global Financial Centers Index, calculated by the U.K.-based Z/Yen Group to rank the competitiveness of finance hubs, Hong Kong came in at sixth place in March, down three notches from six months earlier. In contrast, Tokyo moved up from sixth to third, the highest among Asian cities.
But the higher ranking does not mean that funds will readily relocate their business bases to Tokyo from Hong Kong.
The index calculates the comprehensive competitiveness of financial centers based on factors such as business environment and human capital. High-income hedge fund managers pay keen attention to tax, but the maximum rate for personal income in Japan, which combines income and local residency taxes, is 55%, much higher than the 15% in Hong Kong and 22% in Singapore.
"Living conditions in Tokyo are better than in Hong Kong and Singapore and rents, above all, are lower," the Hong Kong-based senior U.S. hedge fund official said. "If a preferential taxation system, which applies tax rates of countries currently home (to funds), is adopted even on a temporary basis, we will immediately move (to Tokyo)."
But the introduction of such a system is difficult in Japan where preferential taxation in favor of the affluent provokes a strong reaction from the public.
Indeed, tax problems were at the bottom of past failed plans to develop Tokyo as an international financial center.
Aug 10
Despite uncertainties from COVID-19, top Japanese corporations plan to invest 15.8% more in information technology in fiscal 2020 to keep up the wave of digitization across industries.
(Nikkei)
Aug 07
Official figures indicate that Japanese households may be recovering from the economic impact of COVID-19. Spending was down in June, but by a much smaller margin than the month before.
(NHK)
Aug 07
Japan's powerful business lobby, the Keidanren, is dominated by energy-intensive sectors that represent less than 10 percent of the economy, resulting in national policies that favour coal and hindering attempts to combat climate change, a new study said.
(aljazeera.com)
Aug 07
Toyota's profit plunged 74% in the last quarter as the coronavirus pandemic sank vehicle sales to about half of what the top Japanese automaker sold the previous year.
(krmg.com)
Aug 06
The average summer bonus at major Japanese companies this year dropped 2.17 percent from a year earlier to ¥901,147, a Japan Business Federation survey showed Wednesday.
(Japan Times)
Aug 06
Uber Technologies has begun to offer a food delivery subscription in Japan that replaces per-order fees, tapping into the growing demand from consumers holed up at home from the coronavirus.
(Nikkei)
Aug 05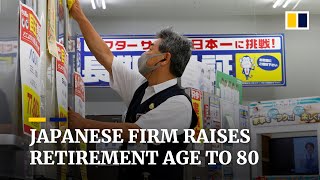 Japan's decision to offer an initial group of 87 companies subsidies totalling US$653 million to expand production at home and in Southeast Asia has sparked debate whether the world's third largest economy is trying to gradually decouple from China.
(scmp.com)
Aug 05
About 60 percent of people in the nation who developed cold-like symptoms during the first wave of the novel coronavirus pandemic, between February and May, went to work despite a request by the government for them not to do so, a recent survey has found.
(Japan Times)
Aug 05
McDonald's Holdings (Japan) has staged a dramatic comeback in the five years since a crisis triggered by food-safety scandals, breaking sales records and thriving on takeout demand in the middle of a pandemic.
(Nikkei)
Aug 04
Nippon Steel decided on Tuesday to immediately appeal a South Korean court ruling that took effect the same day that allows for the seizure of company assets as compensation for wartime labor during Japanese colonial rule.
(Nikkei)
---