The Nikkei's rally comes despite a big scandal enveloping Japan's third-biggest steel maker, Kobe Steel.
Kobe has shocked Japan, and beyond, by admitting that it has fabricated data on components used in cars, aircraft and space rockets.
The company has sold aluminium and copper products to more than 200 companies, including Boeing, Toyota and Nissan, even though they had failed quality control tests - and falsified data to make it appear that items had passed.
The scandal may stretch back a decade, Kobe says, and involved dozens of staff. It risks damaging Japan's reputation for manufacturing quality.
Today, the company revealed that iron powder results were also faked.
Kobe's share price has now plunged by a third since the company came clean on Sunday, and top officials bowed apologetically to reporters.
Jul 18
More than a week after torrential rains in western Japan triggered landslides and flooding, over 200 people are dead and 16 are still missing.
(NHK)
Jul 18
A 36-year-old Filipino man arrested last year admitted Tuesday to raping and murdering a female university student in eastern Japan in January 2004.
(Japan Today)
Jul 18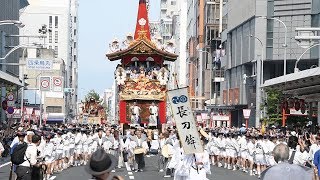 In Japan's ancient capital Kyoto, spectators braved sweltering heat to watch a series of colorfully decorated floats at the annual Gion festival on Tuesday.
(NHK)
Jul 18
Many retailers and consumers in Japan are welcoming the free trade pact with the European Union. They are expecting it to lower prices for a range of gourmet products and provide a boost to the economy.
(NHK)
Jul 18
Japan and the European Union have signed a free trade deal in Tokyo after years of negotiations. The economic partnership agreement covers about 40 percent of the world's trade and 30 percent of its gross domestic product. The EPA calls for Japan and the EU to remove tariffs on most of each other's goods in phases.
(NHK)
Jul 18
The Tokyo Metropolitan Government invited the media to observe the construction sites for the 2020 Olympics and Paralympics venues on Tuesday, 2 years ahead of the games' opening.
(NHK)
Jul 18
Japan's Mitsubishi Aircraft has debuted its long-delayed passenger jet at an airshow in Britain.
(NHK)
Jul 18
Yomiuri Giants owner Shoichi Oikawa has resigned to take responsibility for a series of scandals involving players at the Japanese professional baseball team, the Giants said Tuesday.
(Jiji)
Jul 18
A Japanese Air Self-Defense Force aircraft blocked a runway at Naha Airport in the southwestern prefecture of Okinawa on Tuesday, causing it to be closed temporarily.
(NHK)
Jul 17
People in western Japan are battling soaring temperatures as they still reel from devastating floods and landslides triggered by record rainfalls.
(NHK)
---